In a post-Black Friday world this is not something I expected to see today. Apparently, Sony is currently testing a PSVR "Trial Bundle" with select PlayStation Plus subscribers right now. If you were one of the lucky few chosen that signed up in time, you would have received a special promotional code in an email with a link to this website. After inputting your personal details and promo code, you'd reportedly be sent a PlayStation VR headset, PS Camera, two PS Move controllers, Skyrim VR, and the PSVR Demo Disc 2.o. Basically, you get a Skyrim PSVR bundle totally for free.
The catch? You can only keep it and play it for 14 days.
According to the rules, if you fail to return it in pristine condition within 10 days of your trail period ending, you will be charged $299.99 to keep the bundle. Makes sense, except for the fact that the entire bundle typically costs $449.99, a whole $150 more than the failure to return fee. This means that if you were one of the lucky 1,400 that signed up before the promotion ended today, you could essentially get the Skyrim PSVR bundle for $150 less than is currently possible anywhere else. Part of that baffling decision is lessened when you realize that by accepting the deal, you appear to be charged the $299.99 fee up front in its entirety as a hold that is removed only once returned. This way you can't give them your card's info and then go cancel the card once you've got the headset.
While the failure to return fee seems oddly low, as a whole this is a genius idea. You can currently try PSVR at various store locations right now if you don't own one yet, but this is the first we've heard of a loaner program designed to entice prospective buyers. Targeting PlayStation Plus subscribers makes sense as well, since those customers are already proven to spend more money on PlayStation content and products.
It's also worth noting that the trial period and website for signups is being administered by Prize Logic, a company Sony has worked with in the past for promotional periods. It seems to be legitimate since I got an email on my personal account from the same address that always sends daily product and content updates (PlayStation@playstationemail.com). It looks like this: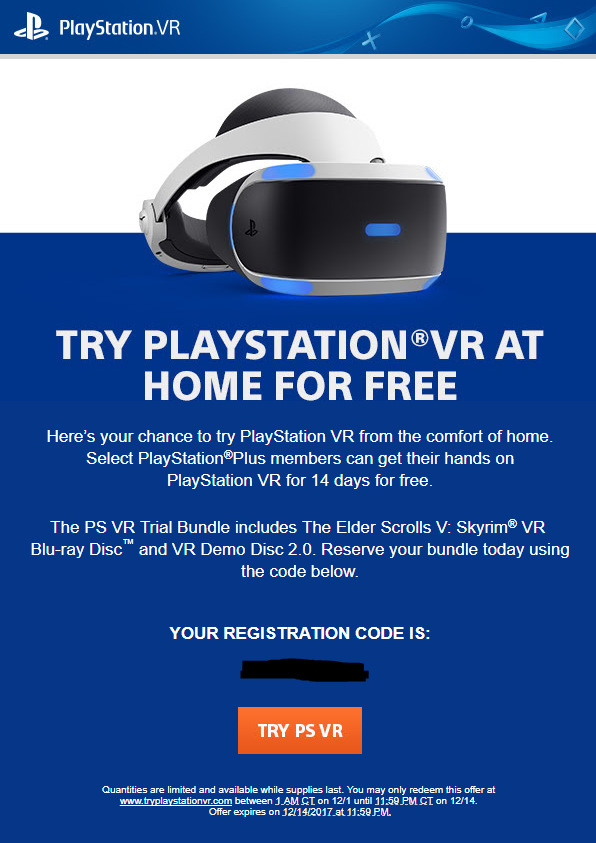 What do you think of this move? Are you bummed you missed out? Let us know down in the comments below!