It's been a while since we've seen so many new releases on Steam with Vive support. And best of all, there is a nice mix of demos and full games to sink your VR-sharpened teeth into. If you missed out on last week's releases, you can check those out right here.
Don't forget that we've got an UploadVR Gaming Steam Community to join now and you can also follow the Curator Group where we'll keep you up-to-date with our reviews and recommendations. We'll also be running community-focused events soon as well.
Now for the week's releases!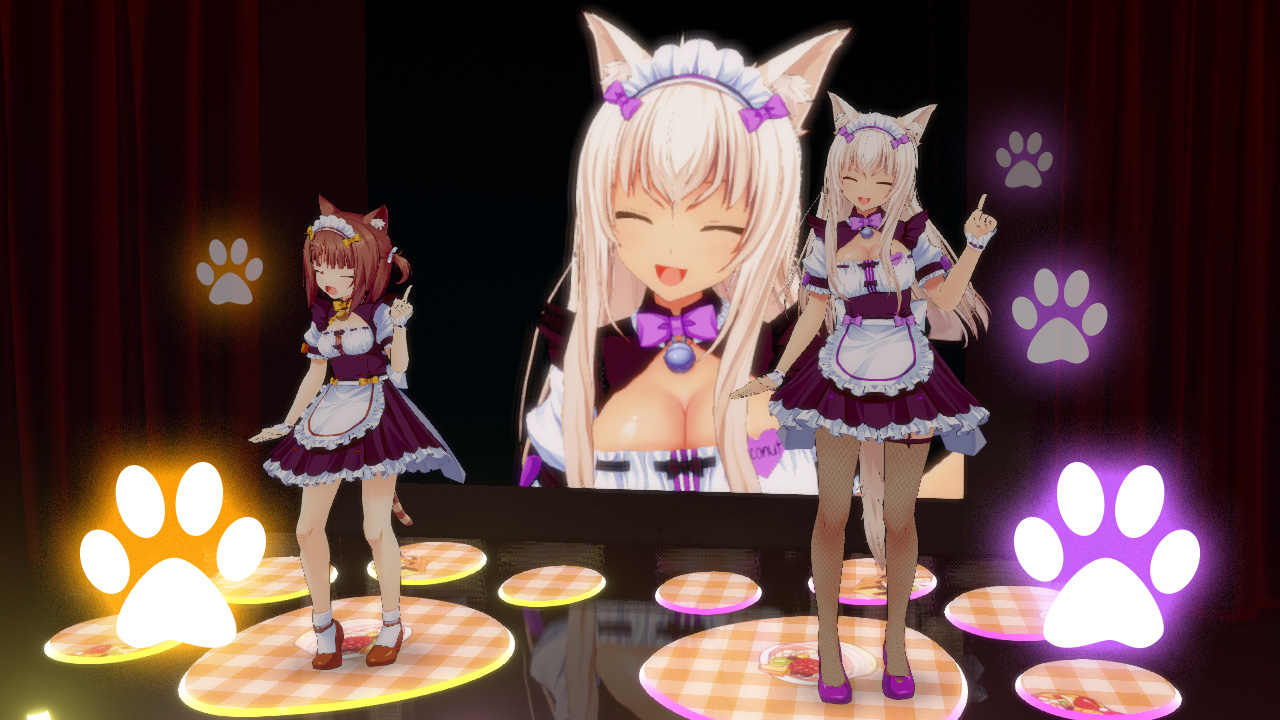 NEKOPALIVE, from NEKO WORKs
Release Date: May 31, 2016 Price: Free
NEKOPALIVE is a VR concert that features "the catgirls of La Soleil" from the NEKOPARA series. No, we're not entirely sure what we just said either. With four songs to listen to, you can sit back and be entertained as these girls dance and sing. Sure, it's a little strange, but graphically this is actually rock solid, and makes a better case for VR concerts than any 360 video we've ever seen.
Recommendation: If you're a NEKOPARA fan then this is a free distraction, but anyone else can pass.
Arachnophobia, from IgnisVR
Release Date: June 2, 2016 Price: $4.99
It might be releasing on Steam this week, but Arachnophobia is actually a pretty old VR app that dates back to the earlier days of Oculus Share. It's a pretty interesting experiment, even if it does play on the limitations of earlier VR. You place your hands on a table to mirror the setup in-game and then raise the levels of intensity as spiders begin to crawl over your hands. Can you stand having creepy crawlies all over you?
Recommendation: VR's moved on since Arachnophobia first released so it's hard to recommend this, but it might be fun to show anyone with a particular fear of spiders.
VR Regata
Release Date: May 31, 2016 Price: $4.99 Free
Ah the joys of the open ocean. Now yours to experience for the low, low price of free. Regata VR, from MarineVerse is game that emphasizes simplicity and experiences over flash and spectacle. Even the game's description is devoid of flair as it encourages you to "learn basics of sailing, compete in races and relax on your own sailing dinghy."
Recommendation: If you're a fan of VR titles that transport rather than enthrall you then Regata VR could be a game for you. No exploding aliens or slashing swords here. Just lots of time alone to play with your dinghy.
Waltz of The Wizard
Release Date: May 31, 2016 Price: Free
Obviously, Aldin Dynamics can't compare its game – Waltz of the Wizard – to Disney's Fantasia without risking the wrath of the Mouse House so we will have to draw that line on their behalf. WOTW combines beautiful music with whimsical magic and delightful hand controls to create an enthralling VR experience.
Recommendation: If you've ever wanted to live in a Disney movie this is your chance. Dive in and don't look back.
Lightblade VR
Release Date: May 31, 2016 Price: $3.99
Here again we have a studio producing a product that is similar to, but legally distinct from, a very well known entertainment property. We won't say which this time but these laser swords (or what Andreas Hager Gaming is calling self-illuminated plasma blades) could help you get far far away from your problems.
The game is essentially a training scene where you parry the blasts from a little floating robot. Sound familiar?
Recommendation: let's be honest, experiences like this are half the reason you got your Vive in the first place. It's low cost and high fun, definitely worth a buy.
Directionless
Release Date: May 31, 2016 Price: $0.99
Directionless is a weird game that is essentially an experiment in virtual reality horror. It tests out a myriad of scare tactics on you and is a great way to get some cheap thrills within your headset.
Recommendation: If you've got an extra dollar burning a hole in your pocket and you want to see a lot of different VR scares then Directionless is absolutely worth your time.
Pool Nation VR
Release Date: June 1, 2016 Price: $19.99 (Currently 15 percent off)
This is the big one folks. The one that's been topping the charts. Pool Nation VR is a huge success for Cherry Pop Games and verifiable proof that people really, really want to play billiards while wearing a Vive headset.
Recommendation: Pool Nation captures all the fun of pool but also wraps it up in an absolutely gorgeous package with plenty of little touches to keep you impressed. This is definitely something every Vive owner should have in their library at this point in the game.
Anomilae

Release Date: May 27, 2016 Price: $4.99
Hey do you guys remember ADR1Ft? Anomilae is the Vive's answer to that particular space faring experience. It employs similar movement mechanics and survival schemes while also sufferning from a significant visual downgrade.
Recommendation: We gave ADR1FT a 6/10 and Anomilae doesn't seem to improve upon any of its predecessor's flaws. Do with that what you will.
The Night Cafe: A VR Tribute To Van Gogh
Release Date: June 3, 2016 Price: Free
VR and art seem to be a match made in heaven. One wonders how long physical museums will continue to draw a crowd now that the technology exists to explore their contents digitally. The Night Cafe is less of museum exhibit, and more of a love letter addressed to one of the world's most prolific artists.
Recommendation: The Night Cafe is fairly passive and very experiential. If you're looking to be moved or stirred then the price is certainly right at free. If you want to blow things up you might need to look elsewhere.
Kodon
https://www.youtube.com/watch?v=Gh33IkBLmxE
Release Date: June 3, 2016 Price: $19.99
TiltBrush who? It's time to get creative again and Kodon is here to offer you your tools. Emphasizing melting, bending, and sculpting, over painting and drawing; Kodon is a VR art program that feels a bit more physical than those that have come before it.
Recommendation: If you've ever felt a romantic tug toward being a blacksmith then Kodon could become one of your favorites in no time.
–
That's all for now but be sure to check back next week for even more Vive releases. In the meantime, happy gaming!