From deep introspective explorations, to far-out journeys into the unknowns of the universe, explorers are the heroes that guide us forward. They are the ones whose relentless curiosity uncovers possibilities.
When it comes to storytelling in VR, Félix Lajeunesse and Paul Raphaël are among the most celebrated explorers, uncovering artistic and technical tricks that help immersive content creators progress further. And there is no more extreme example of exploration, than those that choose to venture beyond the Earth's atmosphere.
Felix & Paul Studios' newest experience, Space Explorers: A New Dawn, premieres at the Sundance Film Festival New Frontier Exhibition this week. After the premiere, it will be available for free alongside its second chapter, Space Explorers: Taking Flight, with the launch of Oculus Go this year.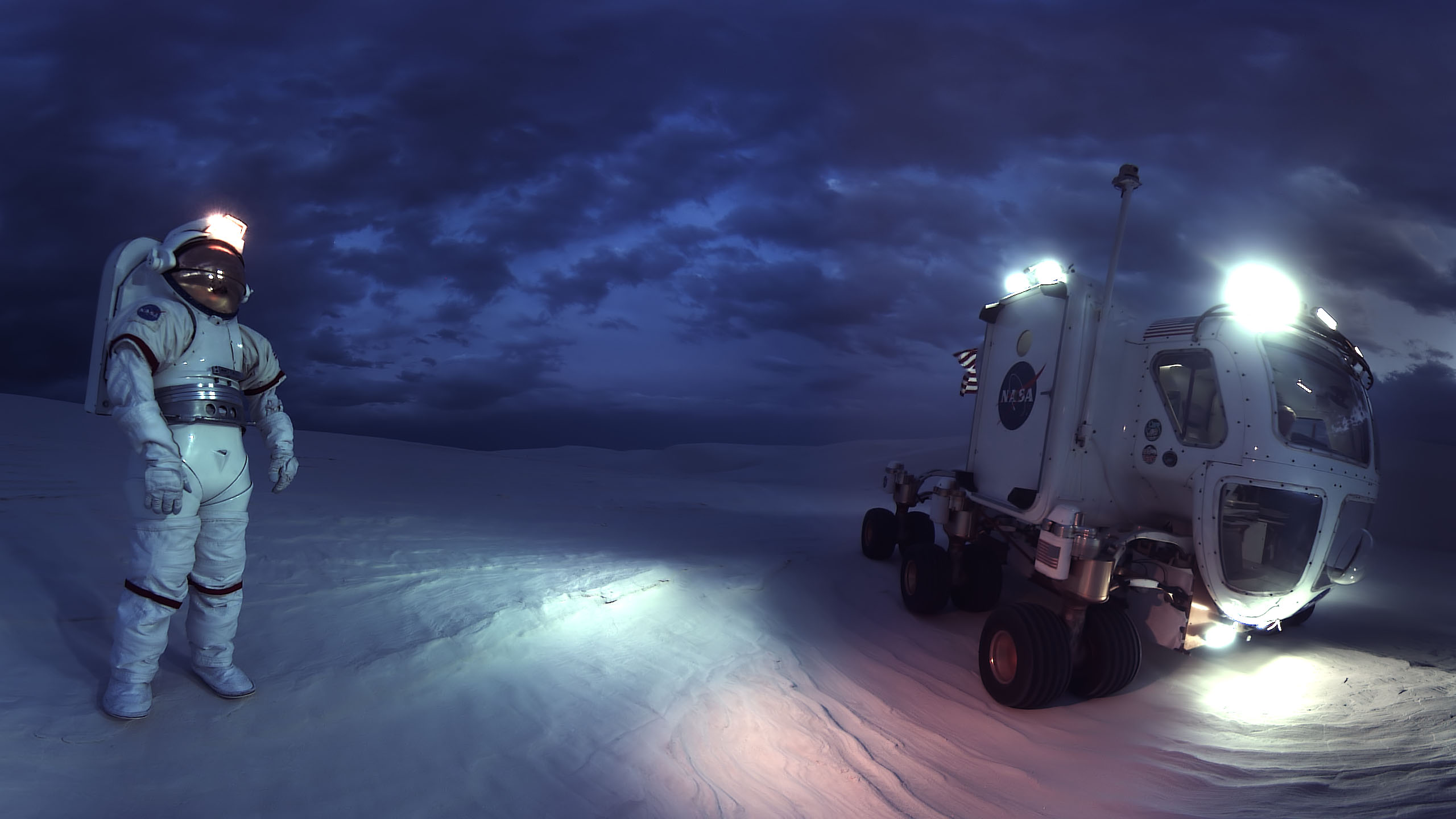 I had the opportunity to preview Space Explorers: A New Dawn, and then uncover what Felix & Paul Studios learned from creating the experience. Plus, NASA's Principal Virtual Reality Engineer and several astronauts shared with me how they are using VR to prepare for future explorations throughout our solar system.
Space Explorers: A New Dawn introduces visitors to NASA's new generation of astronauts, Jessica Meir, Jeanette Epps and Victor Glover, the depths of what space exploration entails for them now, and the ambitious plans for the near future. I enjoyed being educated directly by NASA astronauts, while joining them in inspirational and breathtaking scenes. We covered a lot of ground, from training underwater, through to speeding through the air in a T-38 jet.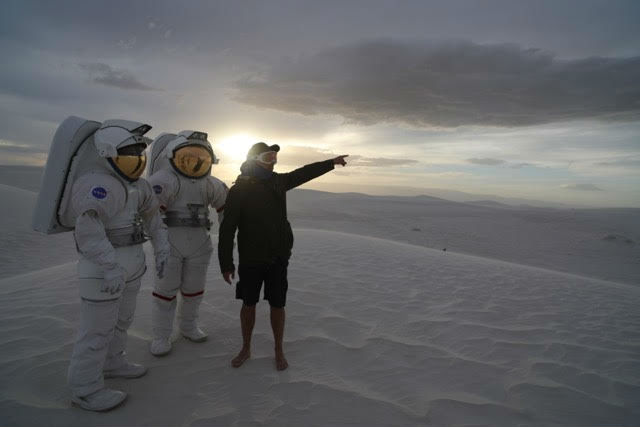 Lajeunesse shares that the second chapter, Space Explorers: Taking Flight, takes visitors on an exploration of "…the collaboration between NASA and private space companies such as Space X and Boeing, as well as the spirit of collaboration between the world's national space programs." Viewers visit Cape Canaveral, Russia and Kazakhstan, and also experience two up-close rocket launches.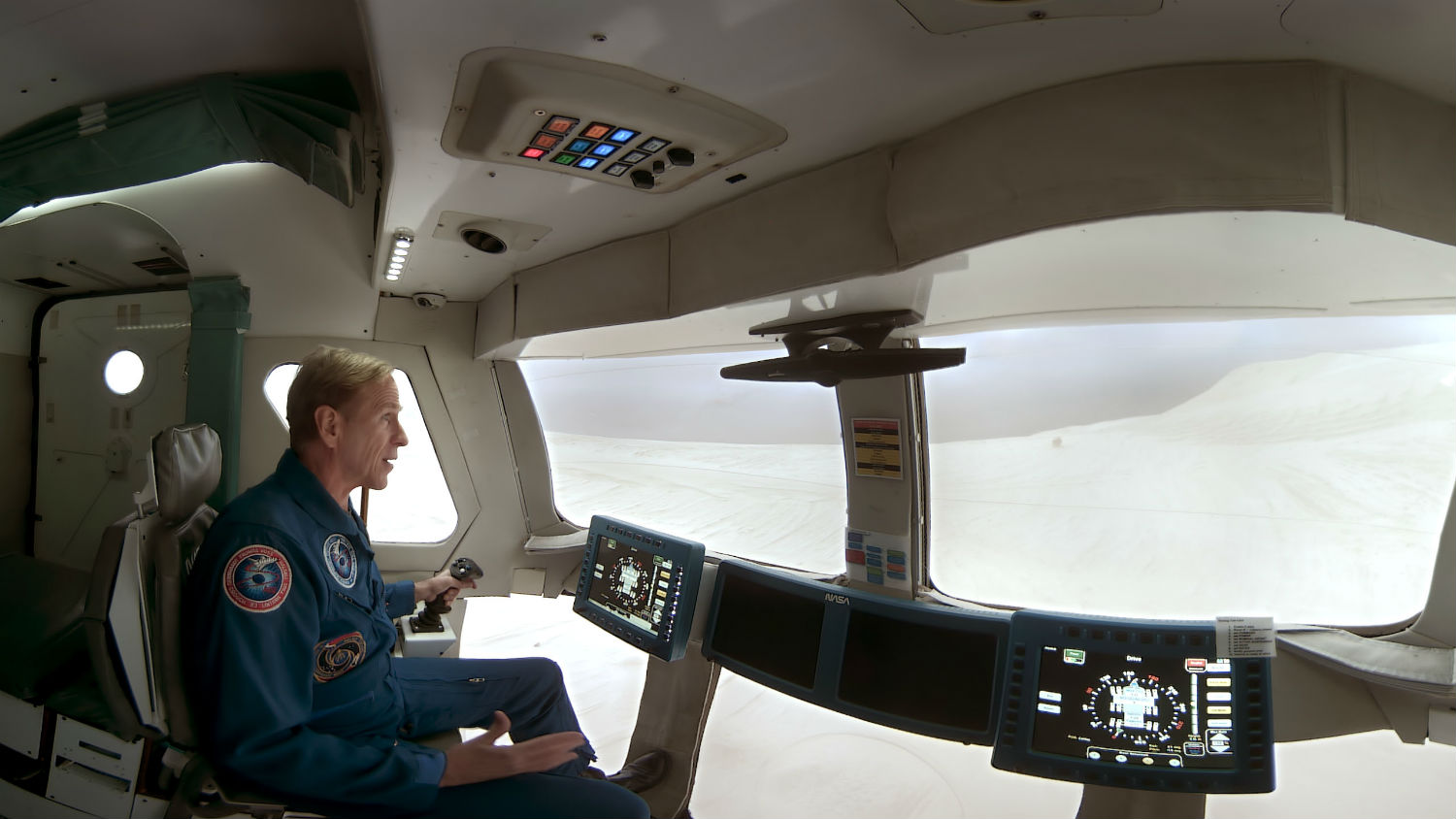 How Felix & Paul Create Entertaining, Educational Content in 360
Storytelling in VR not only takes you to new places, or allows you to be someone or something else, but it has the ability to give you experiences that enhance your life in a way that other mediums cannot do. The drivers of why we seek out immersive experiences hint at how essential great educational content is in driving VR adoption.
Space Explorers: A New Dawn is an opportunity for visitors to get behind the scenes with NASA to learn more about space exploration, meet its heroes, and get one small step closer to feeling what it would be like to become one themselves.
Lajeunesse explains this about the project:
[VR is the] only medium [that] can make you feel like you are present inside the story, with the capacity to stand next to space rockets at their real scale…We wanted viewers to experience this story as if they themselves were space explorers and astronauts – with a sense of direct emotional and sensorial engagement. We knew from the beginning that the main challenge of this series would be to establish the right balance between telling a revealing story and creating a compelling experiential and immersive journey for audiences. In other words, we wanted the story and the experience to form a synergy and symbiosis and not to "compete" with one another.
He explains how they did this:
For instance, when we immerse the viewer in shots that are more "physically immersive" and more demanding from a "reptilian brain standpoint" – like the T-38 jet shots where you fly through the air at supersonic speed or the NBL underwater shots – we know that the viewer's level of receptiveness and attention to any additional story content (a voice-over narration that would be added on top of the visuals for instance) will be very different than if we immersed the viewer in a wide-opened landscape shot of the desert for example. While certain immersive shots might be better suited for inspirational or philosophical voice-over content, others will work far better to communicate informational and educational content. It's about syncing the story ark and the communication of ideas throughout the story, with the experiential and immersive modulations of the piece.
And for the moments where viewers are present next to on-camera interviews, they worked to "minimize distractions in the 360° space for the viewer to really engage with the astronaut standing in front or right next to him."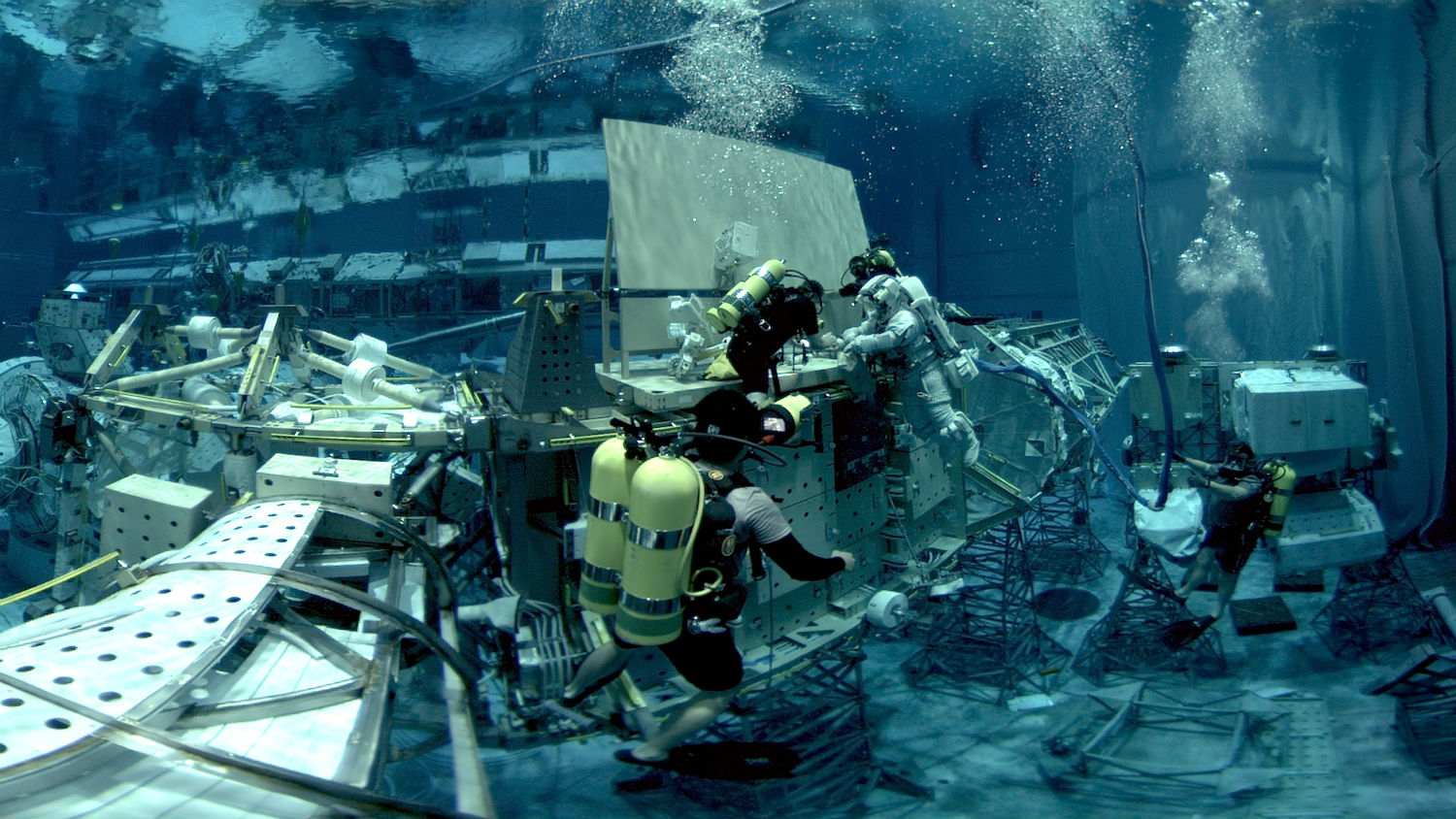 Exploring New Territories with Space Explorers
Felix & PaulStudios have innovated their proprietary technology as they capture new experiences for VR.
"We had quite a few firsts on this production, and solutions to find for many extreme situations," explains Raphaël.
They went from the depths of shooting underwater at the Neutral Buoyancy Lab at NASA during actual astronaut training, to shooting from the co-pilot seat of an airborne T-38 jet which,  Raphaël said, "subjected our camera to monumental vibrations that not only put our hardware at risk but made getting a clean and comfortable shot a challenge requiring the collaboration of NASA's own engineers."
"In all these cases we had to devise new ways of shooting, securing and processing our images, but the challenges were far from only being technical," Raphaël said. "Our goal was never simply to get a 3D 360-degree shot, but to really immerse the viewer in a way that they felt they were truly there. Navigating the technical and logistical challenges and unpredictability of these extreme scenarios while getting that right shot pushed us to our limits."
In October, I ran into Raphaël at an industry dinner the evening of the SpaceX Falcon 9 rocket launch. He excitedly shared that he was able to watch the live stream of the footage being captured for the second chapter of Space Explorers, with their camera just a few meters away from the rocket. So close in fact, that they subjected their camera to the flames of the rocket engine. It may have cost them a camera, "…but in every case, it was more than worth it."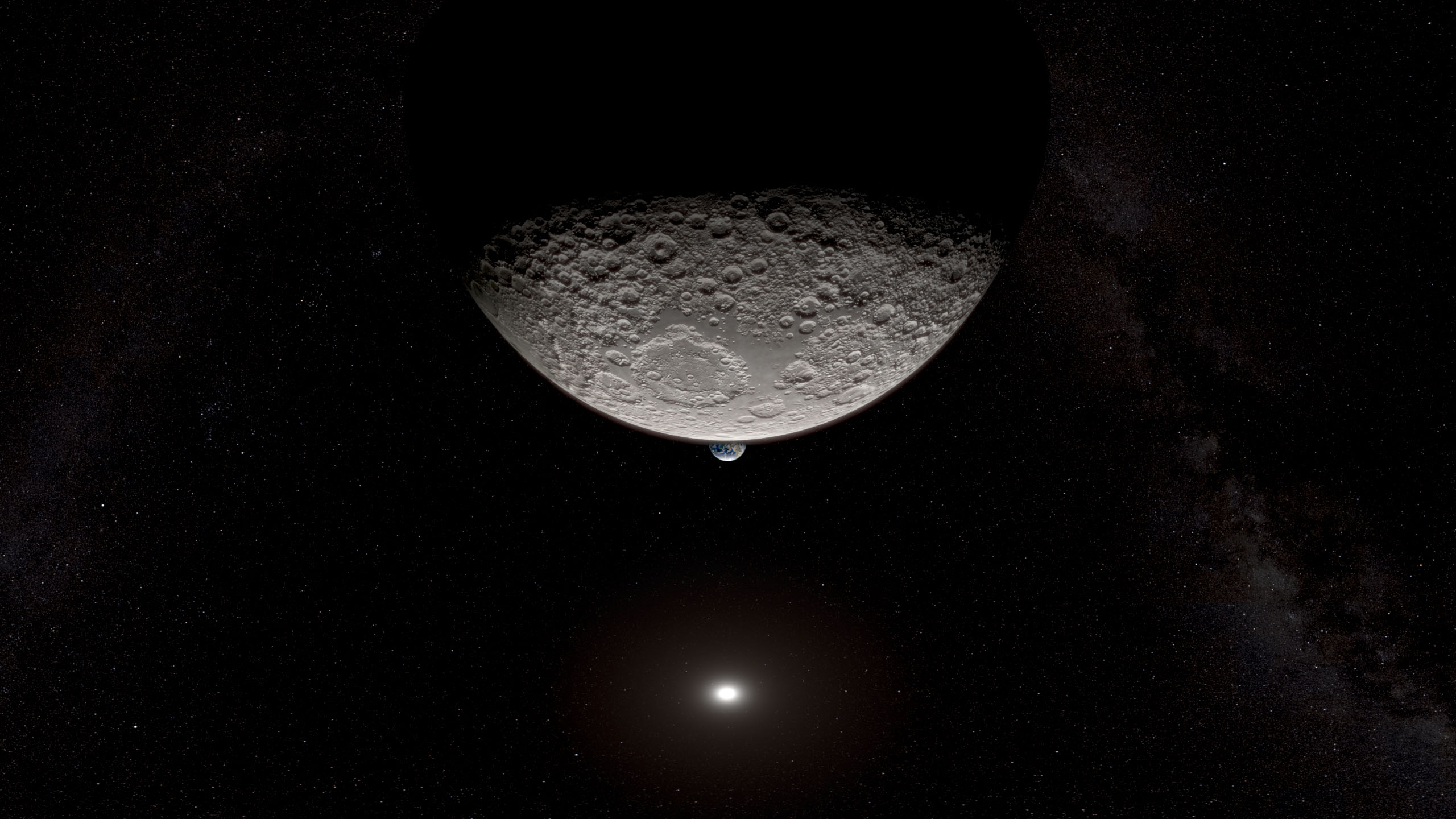 How NASA Is Educating Astronauts with Custom VR Experiences
This is not NASA's first adventure with VR.
Evelyn Miralles, Principal Virtual Reality Engineer of the NASA Virtual Reality Laboratory/Astronaut Training Facility, explains that "NASA has been involved with VR research and development for space and military purposes since the 60's." But, since 1992, they "have been using VR officially for astronaut training at the Virtual Reality Laboratory."
Their lab uses a VR system that was designed in-house for astronaut training. It's used to "train astronauts for Spacewalks and Robotics operations as well as for [zero gravity] mass handling techniques," simulating handling objects with large masses in case a repair or replacement is required outside of the International Space Station.
Astronaut Victor Glover says this VR simulation includes the use of gloves and a headset that allows them to see the simulation, and there are also physical "handling aids and equipment that we can hold and manipulate to simulate how heavy equipment behaves in microgravity. The hardware is connected to a series of cables, pulleys, and motors that really create a convincing simulation."
Astronaut Jessica Meir told me that they also learn "how to use and operate the Simplified Aid for EVA Rescue (SAFER), a backpack-like system that we wear on our spacesuits in the remote chance that we became untethered from the space station and had to maneuver our way back." The VR lab is essentially their "only means of training with this system to learn how it might feel and react if we were ever to have to use it on our mission."
Miralles explains that NASA has also used VR to develop experiences that simulate life on Mars, and for collaborations. Reflecting on other opportunities for VR that are being investigated, beyond its ability to support activities like design and development, she highlights that it could also "aid in communication between astronauts and ground team work."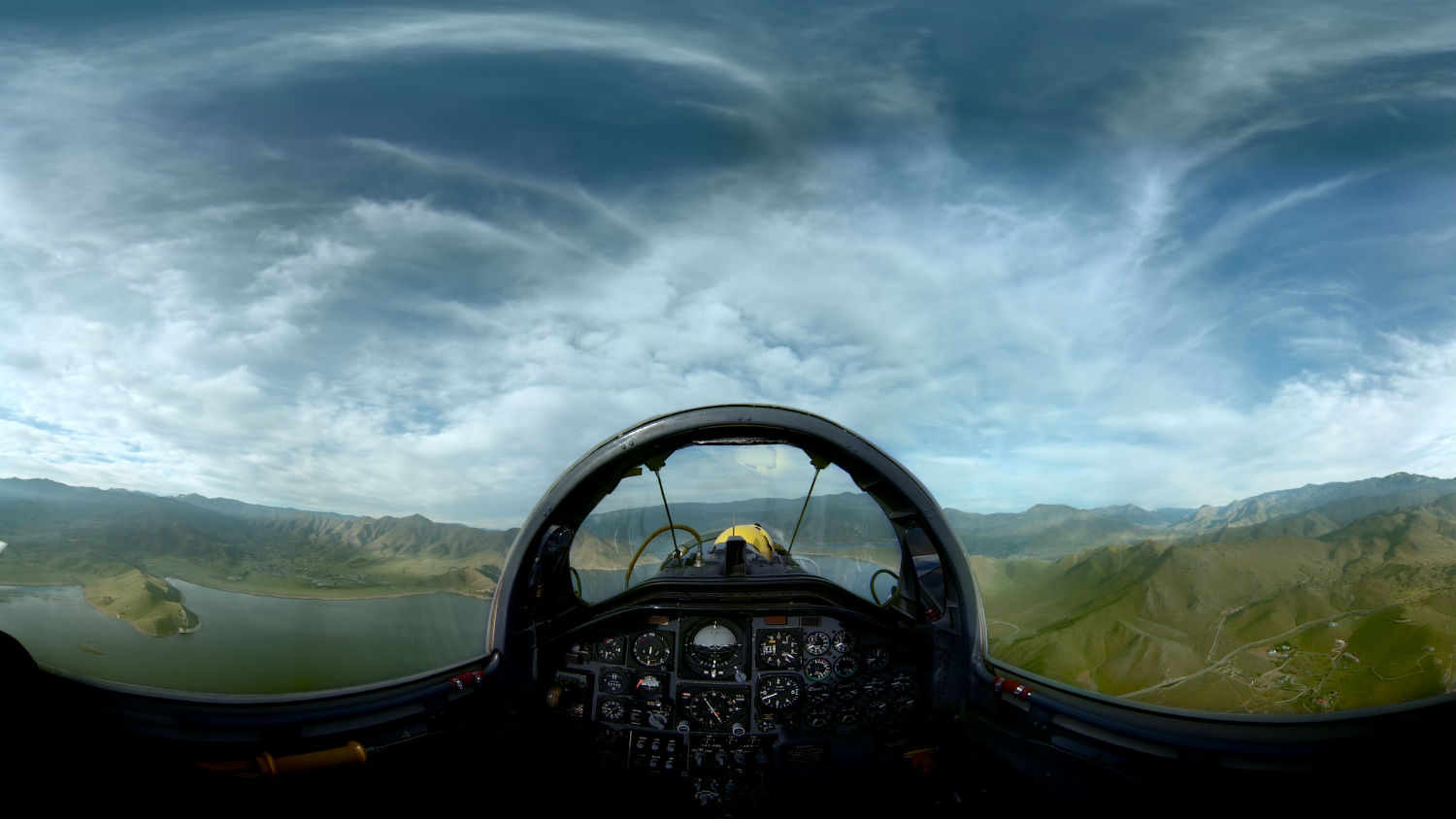 An Elevated VR Experience for Out-of-Home Viewing
Felix & Paul Studios chose to do a special cut of Space Explorers: A New Dawn for its premiere this week, with synchronized Voyager chairs by Positron. Raphaël explains that they were engaged by its ability to "elevate a VR experience in more than just a visceral way…Having your body react to the rumble of riding shotgun in the Mars Rover, the thrust of a T-38 jet or the feeling zero-G outside the ISS is incredibly satisfying, but being able to orient the viewer opened up new ways to frame a shot and tell the story."
The full-motion experience may pop up next at a NASA visitor center.
Laura Mingail is a Marketing & Business Development executive in the entertainment industry, focused primarily on driving engagement with film and VR properties, as well as developing monetization strategies for VR content creators, publishers and out-of-home entertainment centers. She is also a contributor to UploadVR.