The third season of VR Master League's (VRML) competitive Echo VR matches continue this weekend, with the second challenger cup concluding cycle 2 of the season.
VRML began Season 3 of their competitive Echo VR matches earlier this year, many of which are broadcast live in VR through Oculus' Venues app, available on Quest. Season 3 brought some new structural changes compared to last year's second season, with  a "flexible ladder system" that accounts for multiple divisions with players at any skill level, from Master down to Bronze.
The regular season matches are spread out over three cycles, each of which conclude with a Challenge Cup. The cups are an opportunity for teams in the second highest division, Diamond Division, to make it into the Master Division for the next cycle of regular season play. Likewise, for some of the teams in the Master Division, this is their chance to keep their spot and avoid relegation for the next cycle.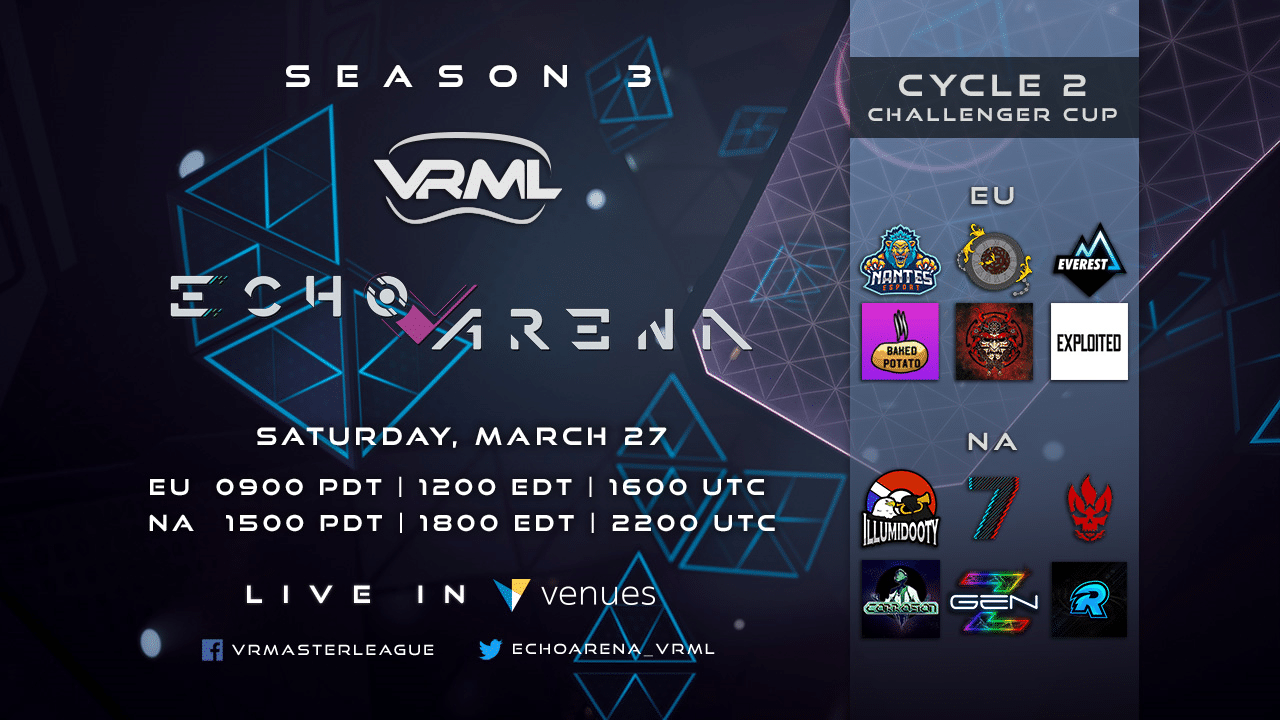 The 2nd Challenger Cup of the season will be broadcast in Venues this week for both the NA and EU regions , with six teams competing per region — five from Diamond, trying to move up a division, and one from Master, fighting to keep their spot and avoid relegation down to Diamond.
The teams competing in the EU Challenger Cup are Clockwork, Everest, Baked Potato, Ronins, Exploited from Diamond and Nantes Esport from Master. Likewise in the NA division its Wrath, 7, Corrosion, Genz, Rush and Illumidooty (formerly known as Illuminaughty and Illumidotty) from Master.
The entire Challenger Cup for both regions will be broadcast in Venues this weekend, so you can watch the matches by yourself or with friends in a social setting. Venues features a live theater-sized virtual screen, which emulates the feeling of attending a large sports event.
You can view your timezone's start and end times for the NA Challenger Cup broadcast here, or the start and end times for the EU broadcast here. Outside of VR, the matches will also be broadcast on YouTube and Twitch.