World War Toons is easily one of the most anticipated upcoming VR games, as it has been in development for quite some time and has the AAA-caliber polish that most other experiences are sorely lacking. Now, as the year moves forward, we've found out that the Open Beta for World War Toons will debut on the PS VR on the date that the headset releases: October 13th, 2016. This  makes it one of the first officially free-to-play titles on the upcoming platform from Sony.
Last year, we went hands-on with World War Toons and came away very impressed. It's a bright, colorful, and whimsical take on one of the greatest wars in the history of the world, built from the ground up with VR in mind.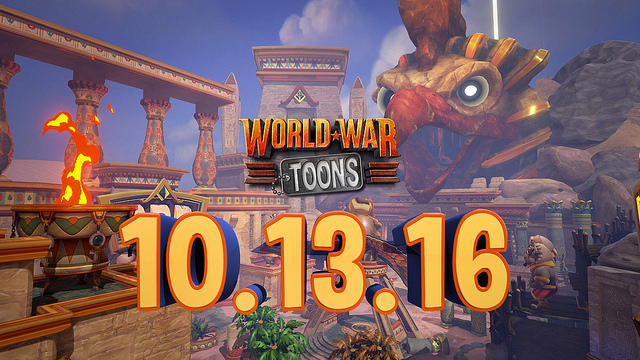 World War Toons features a variety of different characters to choose from, all with different specialties. With ridiculous weapons like flying tanks and rideable rockets all on display, it's certain to be a ridiculous, but exciting, multiplayer shooter.
On an episode of the UploadVR Gamecast earlier this year, we sat down and talked about VR shooters with Reload Studios CEO, James Chung.
Reload Studios also announced a new map, called Pyramid Scheme, which features capture-the-flag style gameplay. You can see the debut trailer for that below.
Worth noting is that even though the game was designed with VR in mind, you can still play the game for free in the non-VR version as well. This is a big title for PS VR to have freely available to all players at launch, and should bolster the game's popularity in the coming months as well – especially considering that the PS VR headset is not required to play.
However, this does make me question how optimized World War Toons really is for VR devices if the exact same game can be played outside of VR as well.