Opening at nine roller coasters in Six Flags amusement parks around North America, virtual reality roller coasters powered by the Samsung Gear VR are expected to be seen by 7.5 million people this year alone.
The number comes from Sam Rhodes, corporate director of design for the theme park chain, during a media preview day at Six Flags Magic Mountain in Southern California. The VR coaster technology is being rolled out over the next month on the The New Revolution, originally built in 1976 as the first modern roller coaster with a loop. Then known as the Great American Revolution for the U.S. bicentennial, the ride is one of nine at Six Flags parks this year that will be retrofitted to work with Samsung Gear VR headsets. While other VR roller coasters debuted already around the world, the partnership between Samsung and Six Flags means park visitors have the option of wearing a VR headset on some of the most popular rides in the world, included with their standard admission to the park.
The technology providing the alternate reality experience is powered by Germany-based VR Coaster. The company places a "black box" that tracks how many times the wheel turns and allows software to match VR visuals to the movements of the real-life ride.
The sunny blue skies over The New Revolution were replaced with a massive spaceship and instead of a loop through the breezy California air, in VR the loop passes under the legs of what looks like a gigantic mechanical robot attacking a city. The headset is tethered by a loop worn around the neck and, in addition to the two Gear VR side straps, there's also a chin strap to keep the headset fully secured during the ride.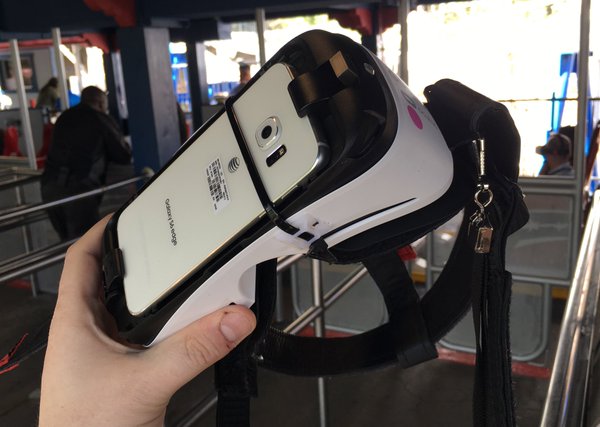 Four times through the VR experience at Magic Mountain by two different people resulted in no discomfort. The acceleration and twists of the ride still gave the unmistakable sense of moving fast and, combined with the synced visuals in the Gear VR, provided an exhilarating alternative to a traditional roller coaster.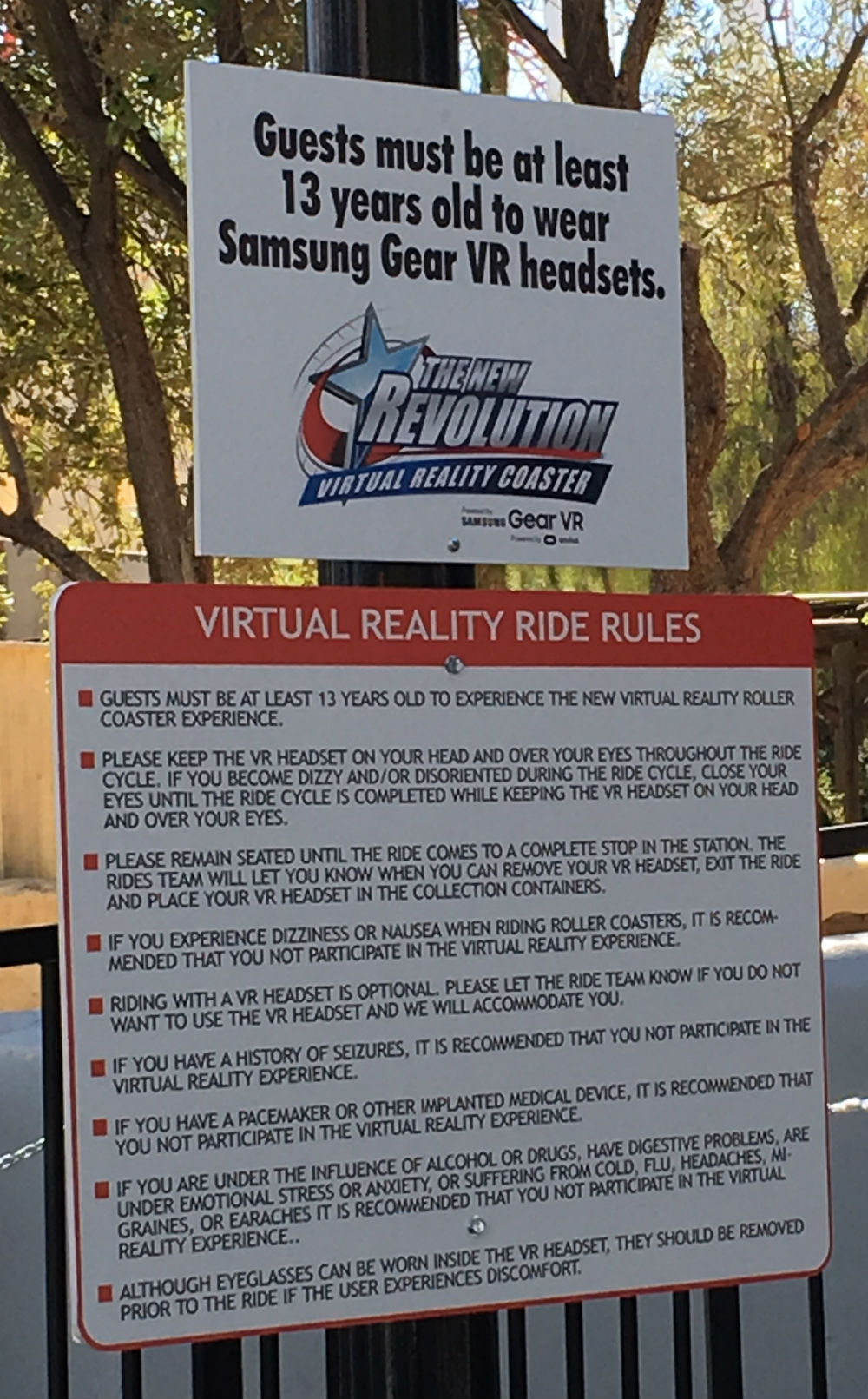 Rhodes said he's used a Rift development kit previously to aid in the design of roller coasters, including Twisted Colossus at Magic Mountain. The addition of virtual reality at the guest's end of the roller coaster experience suggests that VR isn't just changing the way entertainment is designed, but it's poised to imminently change the way people experience it.