Titans of Space 2 by Drash is an awe-inspiring VR space education app set to arrive in the Steam store for both Vive and Rift on May 24, with new features built-in and an early access roadmap of new modes and capabilities planned for buyers.
If you're unfamiliar with the original Titans of Space demo, it is one of the earliest pieces of software to be made for the Oculus Rift development kit in 2013. Over the last three years, "ToS" as it is known by fans, became the go-to experience to give VR first-timers. The software opened a great many eyes (mine included) to the possibility Oculus was onto something far bigger than just a toy for gamers. A version of the original tour on Google Play is responsible for approximately 1 percent of Google's 50 million Cardboard app downloads.
Titans of Space 2 is expected to sell for $8 in early access, with the price rising upon completion of the software. The software — likely to come to the Oculus store as well, pending approval — represents a proper consumer release of the original guided tour of the largest celestial bodies known to humans, plus initial support for a host of new features that will evolve as Drash receives feedback from people who try it.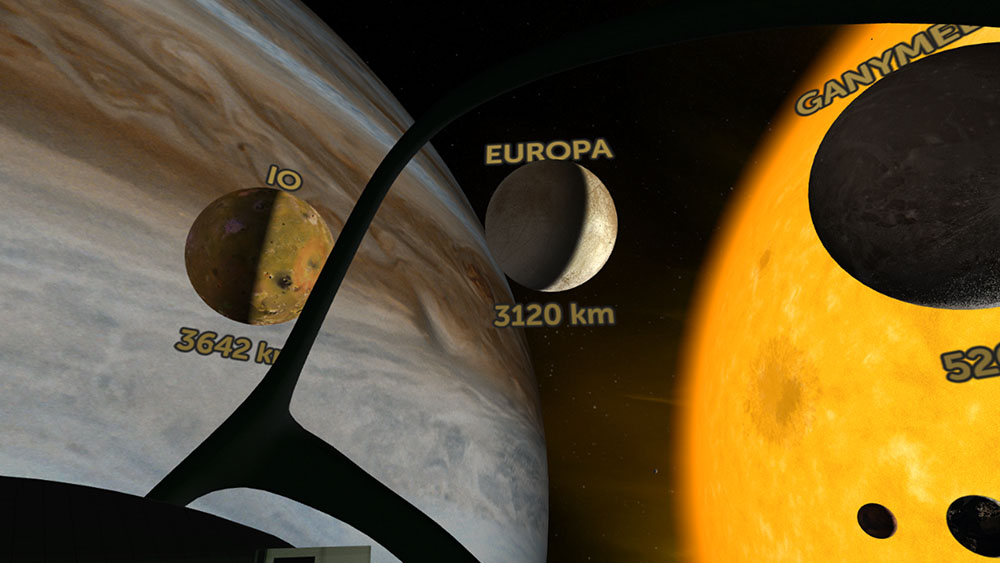 There are six new features included in the initial early release, most important of which is proper support for the original tour in both the consumer HTC Vive and Oculus Rift. It includes support for either standing or sitting positions as well as a side-by-side comparisons feature so you can select two planets — say Earth and Mars — and see them both floating in front of you, each sized proportionally. An intriguing gravity probe feature is also there so you can leave your ship and launch yourself into an orbit of your choosing, though the new capability is still early-in-development. Lastly in the release next week, Titans of Space 2 includes some small content additions, like the addition of a moon around Saturn, and a real distance viewer so you can gauge not just the size of the planets, but the vastness of space between them too.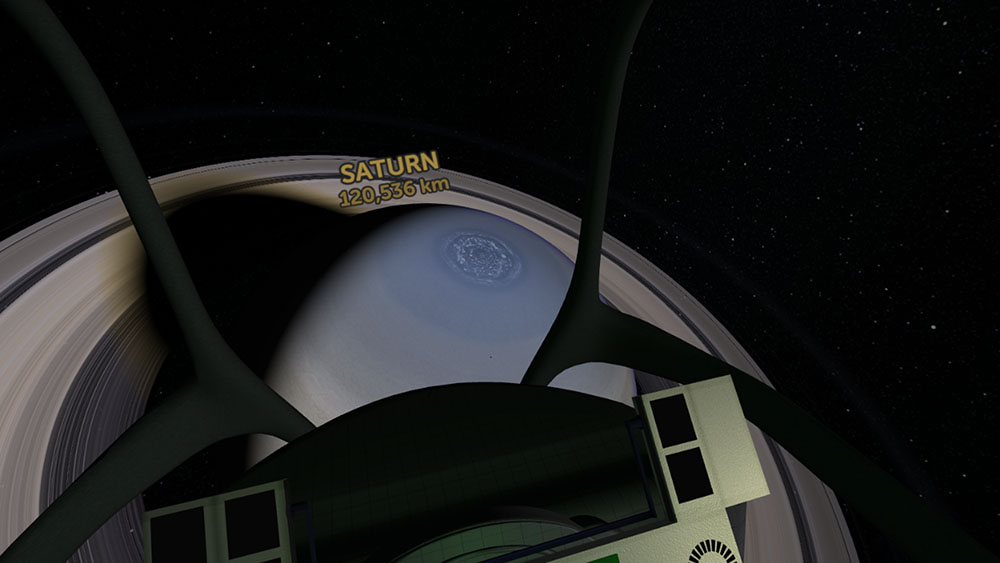 "I'm only partway through my roadmap to bring it up to where I want it to be," Drash wrote in an email. "And since things change so quickly in VR, I want to make sure players stay in the loop in terms of communicating what they want out of it."
It should be categorized as an app in the education genre on Steam and, in addition to the six new features included at launch, Drash's roadmap includes five more features and modes that could move beyond our solar system.
Here's Drash's detailed explanation of the six new features included at launch:
The "Classic" tour is what players were able to experience in version 1.8 hosted on Oculus Share.   "Full support for the Vive and Rift" means proper integration with the Oculus Remote and Vive controllers, as well as an upgraded way to view controller mappings during the experience.   It also means the visuals have been extensively adjusted and tested to minimize glare and light rays as much as possible.  And finally, it means supporting a standing experience (for both Rift and Vive) — see #2.
Standing Support means that plays can choose between Floor-level tracking and Eye-level tracking.  Floor level tracking means you can expect the virtual floor (of the cockpit) to match your meatspace floor.   In this mode, the cockpit dynamically adapts to whether you're sitting or standing, but to avoid complications the player currently has no virtual body.   Conversely, with standing support off it is using Eye-level tracking (i.e. Seated-only mode), and you do have a virtual body that is sitting down.   This is the original behavior, and avoids any hassle of matching your actual seat to the virtual seat, it just works.
Side-by-Side Comparisons is a new feature at most tour stops in the Solar System.  Previously, if a player wanted to compare Neptune's moon Triton with Earth to get a better sense of scale, there was no way to do this except to remember your stereoscopic "sense" of the scale and try to see the other body off in the distance.  With this feature, you can simply bring any body next to the one you're at to compare them directly, not just visually but also some basic stats.
Gravity Probe Launcher is another new feature at most tour stops.   This mode puts you in a tiny third person camera behind a tiny probe, which you can launch in any direction and then sit back and see how gravity affects it, and/or take control to accelerate / decelerate.   Some tour stops make for breathtaking vistas, and for others it's purely educational.   I plan to continue developing this feature further.
The "Real Distance Viewer" is the third new feature at most tour stops.  This one momentarily takes you out of the tour and into a preset scenes where the player gets to see planets and moons at their real sizes and distances.   As an example, in one scene this sheds light on how big Neptune is in the sky if you were to be at Triton in reality, and another scene demonstrates exactly how far Triton is from Neptune.   The player can also toggle distance values on and off.  There is currently one scene with a cinematic sequence, and some have appropriate music.
"Small content additions" simply refers to small touches like an extra moon at Saturn, sunspots on the Sun, upgraded cockpit visuals (still under development), a "protective frame" that by default shows up when the player is moving (to help with motion sensitivity), and various tweaks to planets and moons, and probably more that I've forgotten.
You can use the Vive hand-tracked controllers to go to the next stop on the tour and only one hand controller is required.
"I do have Touch controllers on the way so I'll be working to have deep hand-controller integration in the coming months for both platforms," Drash wrote.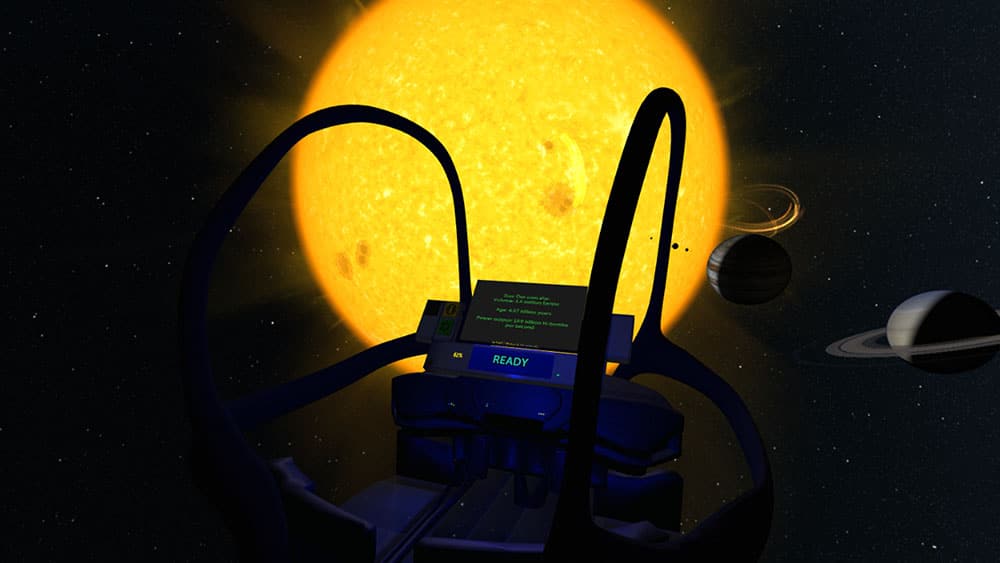 The Cardboard version of Titans of Space included a narration feature available through in-app purchase that won't carry over to the sequel. According to the developer, the main reason is "because so much has changed (and will change) that the narration is already out of date." Drash teased "bigger plans for this — stay tuned."
"The mobile versions will continue to be supported but I won't be adding new features," Drash wrote. "Once 2.0 is done on PC I'll see if some of the new stuff can trickle down, but it's a wait-and-see thing."
Text information about the planets and stars that is offered throughout the original tour was translated into a number of non-English languages by volunteers. Those translations are still included, according to Drash, "even though they are all mostly out of date." He plans to get them redone at the end of the development cycle.
The Steam version of TOS 2 can be viewed in Vive, Rift or even on a traditional monitor with the mouse to control where you look. Stay tuned to UploadVR in the coming days for a hands-on report.
Update: Drash made some changes to the app before launch so I updated the above post to describe ToS 2.0 as it appeared at launch.