We've seen Tilt Brush, Google's Vive-exclusive 3D painting application that's bundled with all new Vive purchases, be used for all manner of creative projects. When we first got our hands on with the released product, we were blown away. Since then, it's seen major updates and enhancements that have incorporated audio reactive brushes and much more. We've even see music videos and other wonderful works of art created in the powerful application.
Now, we can add video game level prototyping to the growing list of uses.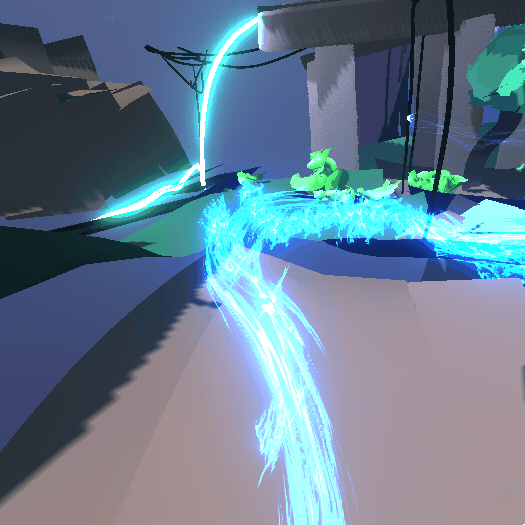 "I have been thinking all my life that the paper and the pen are the best things in the universe when you have to communicate to your mate what you have in your mind," said Néstor Viña León (@nesvi7,) Software Director and Co-Founder at Dream On VR. "And Tilt Brush is like pen and paper with an extra dimension. It helps you to see things that in other ways you have to replicate in 2D."
As you can see in the gifs above and below, after designing an entire area and laying out all of the basic placeholder pieces, you can then zoom through the level as if you were playing the game to get an idea for what it feels like in action. It's a much more powerful process than simply storyboarding or drawing on a 2D canvas.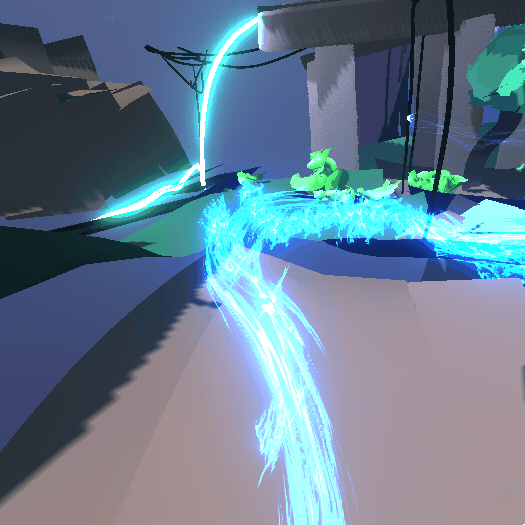 "We decided to use Tilt Brush to see how the map is going to be built because we had to determine which elements would need to be modeled, what will populate the scenery, what can be more impressive, what can be even more epic, what are the sizes needed, and so on," explained León.
"When you have a team drawing in Tilt Brush, new ideas begin to grow and bad ideas are discarded easily because you can have a quick approximation about its final state. It's not the real game, but you can see all those sketches together and that is…very valuable in our development process."
It certainly helps that the project León and the rest of the team at Dream On VR are working on is decidedly action-packed and full of fantastical elements.
Rather than creating just another gritty, realistic simulation, they wanted to make a superhero game in VR instead. Here's one of the character models moving his arm around: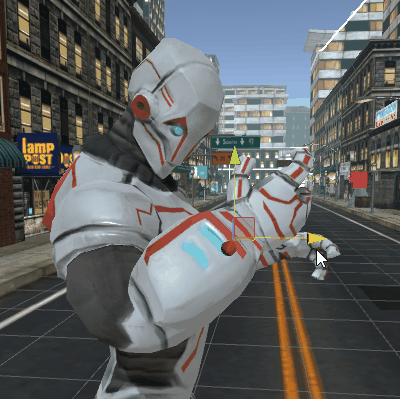 "We are calling it Project Super, it's a multiplayer VR game for the HTC Vive were you are a superhero that fights against villains (normal PC's shooter-like players,) in a city in the clouds," said León. "We are doing this because we like what we do, so we are planning to release it for free and place links were the player can support some charity organizations."
It's still in a pre-alpha state, but eventually it will grow into a fully realized asymmetrical multiplayer shooter. The bad guys are controlled by other players, but they will be controlled using a standard PC interface outside of VR. It's been a dream game for León and his team of "14 very talented industry professionals" aiming to create something top-notch.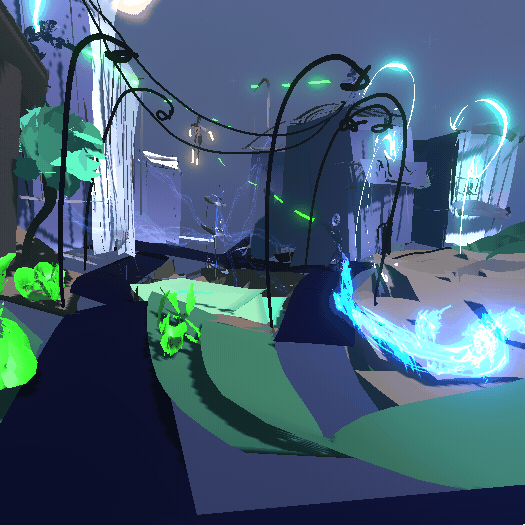 The use of Tilt Brush as a prototyping tool hasn't been seen before and it opens up brand new doors. Other creative applications such as Tvori and Mindshow open up new possibilities as well.
Project Super is still deep in development, so don't expect to learn of a release date any time soon, but we'll keep you updated on the game's development over time. Stay up to date by visiting the Dream On VR website.