There are some genres of games that are already perfect for VR. Simulation titles are arguably the best examples of this; seated experiences, often in a cockpit, that don't offend the golden rules of the technology. Sim games also boast one key advantage over other titles; specialised controllers. No one knows this better than Thrustmaster.
At E3 2016 this week, the input specialist is showing off its latest Flight Control System (FCS) and Hands on Throttle and Stick (HOTAS) joystick, the T.16000M, and it's doing so with the help of VR. Frontier Developments has partnered with the company to show off its massive space sim, Elite: Dangerous, in VR, giving people a chance to experience what the medium can really be like when you have the proper tools for the job.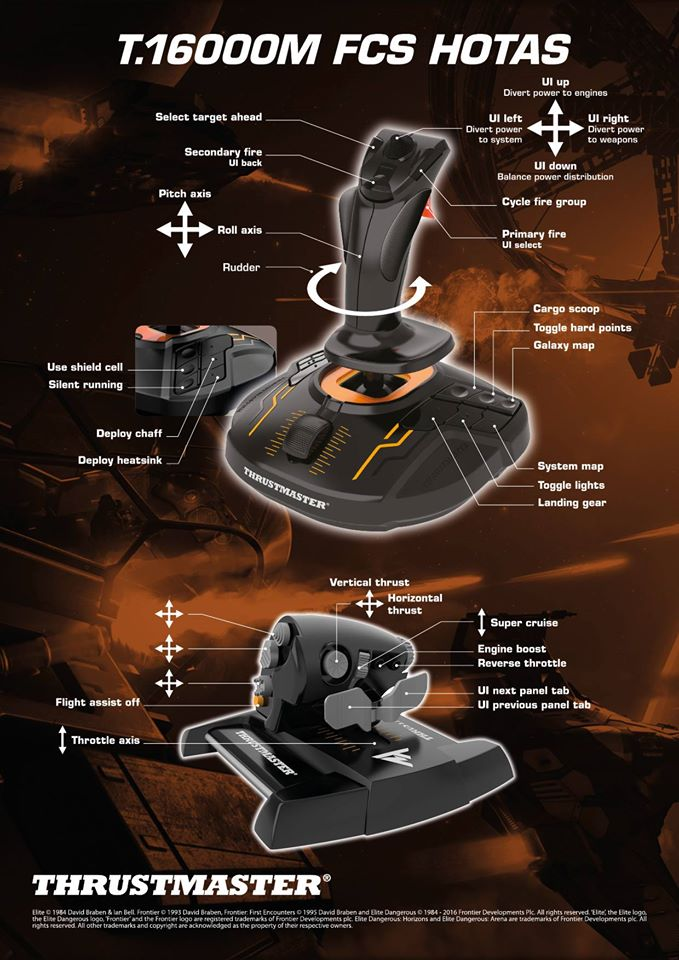 As the acronyms and chosen showcase suggest, the T.16000M is designed for flight-based titles. And it's layered with yet more abbreviations; HallEffect AccuRate Technology (H.E.A.R.T) offers a high degree of accuracy in pitching and rolling, while Sliding Motion Advanced Rail Tracks (S.M.A.RT) technology makes throttle control smoother. One more: Thrustmaster Advanced pRogramming Graphical EdiTor (T.A.R.G.E.T) software allows for complete control over button mapping. Yes, some of the acronyms are a stretch. It also features 4 axes, 16 action buttons, and ergonomic trigger.
I had the chance to try a Thursmaster setup a few weeks ago (not this latest model), and I immediately understood why some VR fanatics have been building specialised gaming areas with proper controllers in proper setups to complement their new HMDs. And the company is taking notice of that demand, as Development Director of Thrustmaster Gilles Raulet told me. He explained that the company is "very interested" in VR, especially because it's "boosting simulation".
"There's no disconnection between the virtual world and the real world," he elaborated, speaking specifically of flight-based experiences. "You're sitting to play where you are inside the cockpit where your avatar is sitting as well. So your brain has no problem considering it is in the vessel, it is in charge, it is piloting." He's not wrong; in my 5 minute Elite demo I'm not sitting wishing I wasn't holding an Xbox pad; I've completely picked up the controls of the two devices I hold and have little trouble believing I'm really inside the cockpit.
What really strikes me about all this is how it's almost happened unintentionally; Thrustmaster is not some VR startup, and it's barely even spoken about VR support before. It's a rare example of a pre-existing technology literally going hand-in-hand with VR. When people first see VR, they know that a driving wheel or flight stick would be a perfect companion to the experience. That reaction is apparently already helping sales.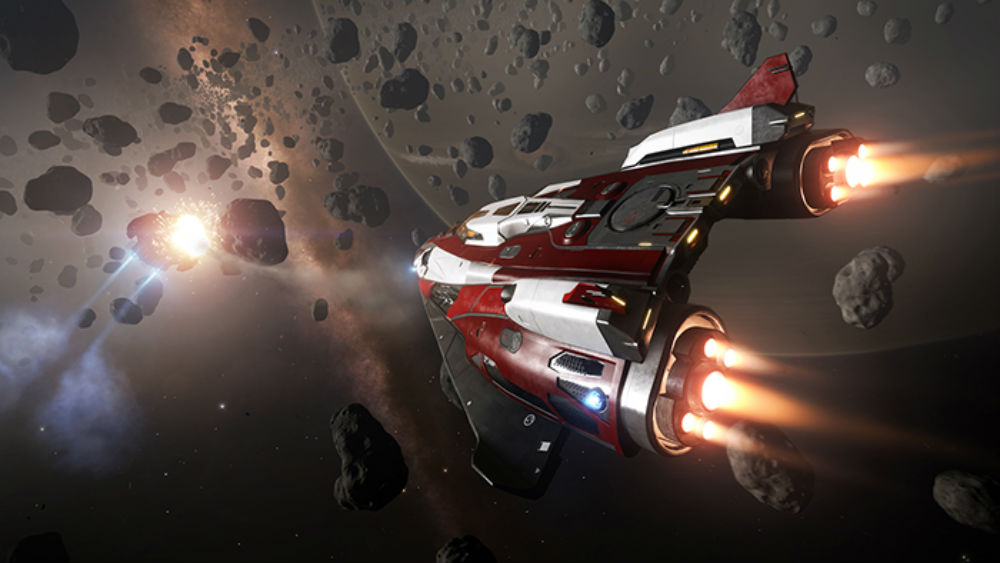 "We have seen just by looking at the sales and also the number of titles that are announced that since VR has been announced there's a lot more offer for the users," Raulet said when we spoke. "And the sales are for joysticks globally is increasing so, so much. The more we analyse this the more we release that the promise of VR is helping to boost the offer."
We've seen so many controllers built for VR since Palmer Luckey ran his Kickstarter, but Thurstmaster is in the unique position of already creating controllers that are a natural fit for the tech. Even so, it still has a lot to learn in this area, and Raulet assured me that the company is working with VR makers to ensure that future products are even better suited to VR.
According Raulet, that work involves talking about "how our devices could evolve so that the user could get an even more immersive experience." He talks about improving the 3D representation of devices so that it's easier to find your controllers when actually in VR, and putting those devices into the game's own interface.
But it doesn't stop at flight sticks; Thurstmaster also provides a series of racing wheels, which I'm sure many PlayStation VR users will be eager to snap up when Gran Turismo Sport launches towards the end of this year. In fact, the company is working with Polyphony Digital on the title, so expect to hear more about their integration later down the line.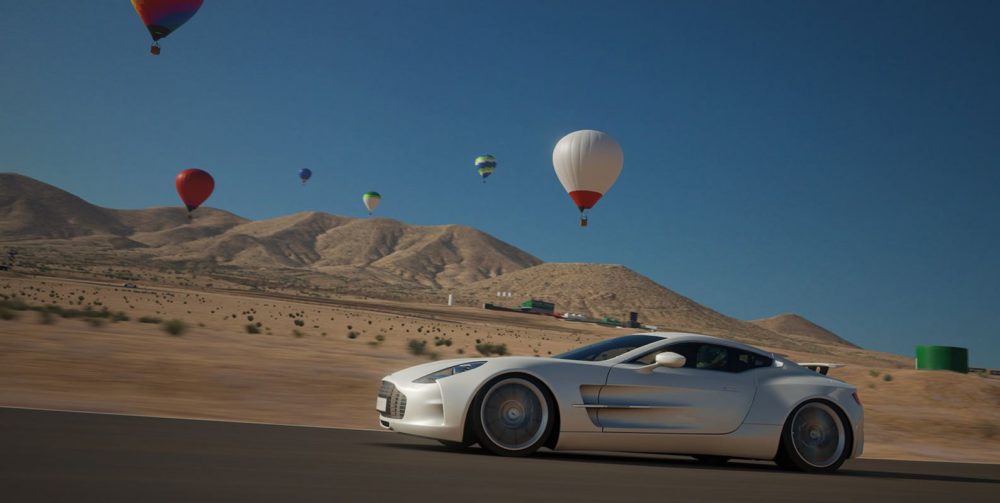 Most games that do support these controllers are pretty high-calibre, but we all know that VR is helping to enable indie developers to make content that's much closer to what AAA studios are pulling off. Fortunately, Thurstmaster doesn't discriminate when it comes to offering support. "All of them, we give them free support, free samples of the products for them to be able to support the device," Raulet says. "It's really important that it gets transparent for the user that the most applications they can play with our devices, the better."
Granted, Thurstmaster isn't going to solve any of the wider problems of VR, but it is helping to refine a selection of games that are set to thrive on Rift, Vive and PS VR.
VR represents a really interesting new era for Thrustmaster, then. Here's a company that proves that you can have specific controllers for a specific genre of games, and has almost stumbled upon a real opportunity with VR. We always talk about the perfect input for the Oculus Rift, HTC Vive or PlayStation VR, without releasing that some games already have it. It's how far the company goes with the tech from here on out that could prove really crucial.