Update 2: Sony has issued the following statement to UploadVR, labelling the contents of its recent newsletter as "incorrect":
We are aware that a recent PlayStation promotional email indicated that Star Wars Battlefront II will be PS VR compatible. This email was incorrect and we apologise for any confusion caused.

While there is PS VR gameplay available as downloadable content for Star Wars Battlefront (released in 2015), nothing has been announced regarding PS VR support for Star Wars Battlefront II.
The statement doesn't outright deny Battlefront 2 will have VR support, so there's still hope. E3 is just a few weeks away now.
Update 1: The image circulating the internet suggesting Star Wars: Battlefront 2 will be PSVR compatible is not fake. We know because we just got an email from PlayStation UK that still includes the PSVR banner, as you can see below. We've reached out to Sony for comment.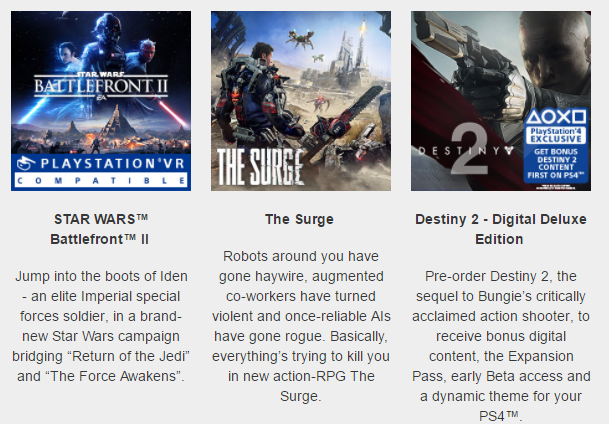 Original story: Evidence suggesting EA's upcoming Star Wars: Battlefront 2 is getting PlayStation VR (PSVR) support appears to be mounting.
Over the weekend a member of gaming forum NeoGAF posted the below image that shows the thumbnail image for the upcoming shooter complete with a banner that translates to "PlayStation VR Compatible". The image supposedly comes by way of the danish version of the PlayStation newsletter email. Another user reported that they had seen in the same in the German version of the newsletter.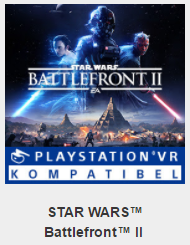 It is, of course, entirely possible that the image was mocked up, but we've reached out to EA for comment all the same.
Even if it is fake, there's a lot to suggest that Battlefront 2 will feature at least some form of VR support. After the game's reveal late last month a member of co-developer Criterion Games stated: "We are not talking about VR at the moment for Battlefront 2. That's a story for another day…"
Criterion itself developed a VR add-on mission for the original Battlefront that allowed players to pilot and X-Wing. Now the developer is working on the flight combat for the sequel, which will allow players to take part in battles from different eras of the Star Wars saga. We're hoping that any VR support for Battlefront 2 will go beyond what we saw with the original game, which remains one of the best experiences on PSVR.
We're expecting Battlefront 2 to be one of the biggest games of E3 next month, so hopefully a VR announcement could come then.