A hands-on demo of the forthcoming first-person shooter Farpoint at Sony's E3 PlayStation VR conference included an integrated motion-tracked gun developed by Sony alongside the game.
While guns incorporating the PlayStation Move controllers already exist, they use multiple parts. The PS VR Aim Controller is a single integrated piece with a tracking sensor where the end of the barrel should be. It includes analog sticks near your thumbs, a trigger and an assortment of buttons at various easy-to-reach spots.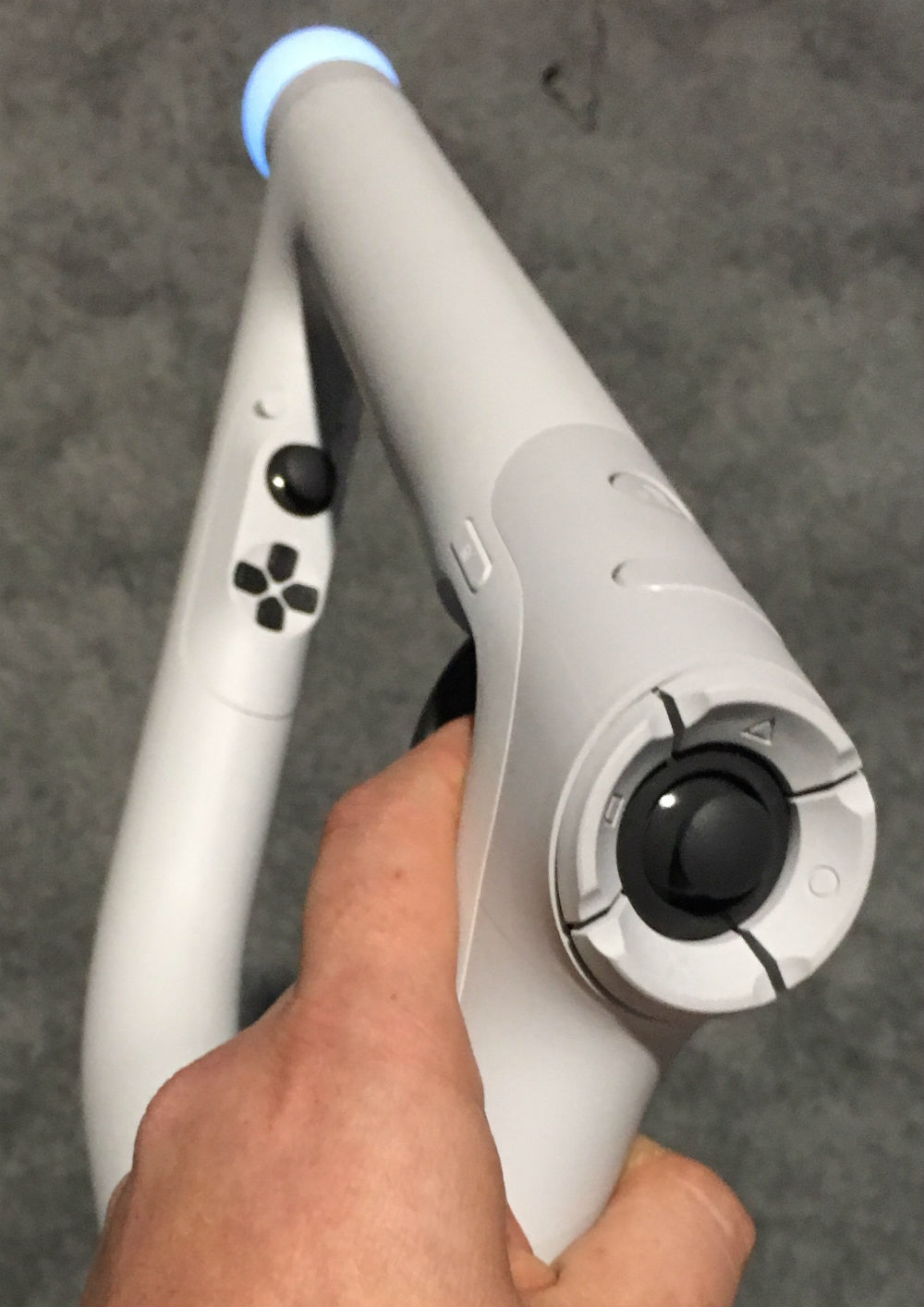 I went hands-on with the Aim Controller and Farpoint at E3. I found the input method and game make for an interesting solution to locomotion problems in VR. The accessory felt like a rigid (albeit light) two-handed gun in my hands and one of the analog sticks controlled movement both forward and backward. I found the gun accurate enough to mow down waves of aliens while also allowing me to move relatively freely around the world. Turning the gun left or right while walking moved me in that direction. I noted no discomfort.
"It really helps with the locomotion," said Randy Nolta, co-founder of Farpoint creator Impulse Gear. "I feel like you are more grounded in the world."
Nolta said a toggle should allow players to optionally enable the second analog stick. Without leaving a standing position, both sticks could allow people who don't suffer from simulator sickness to move nearly as freely as they could with a traditional gamepad. The added benefit of aiming with a realistic-feeling gun means San Francisco-based Impulse Gear might have found a way to adapt first-person shooters to VR without introducing completely new gaming mechanics, like teleportation.
Farpoint doesn't have a release date yet and there's no price or release date for the PS VR Aim Controller either. Farpoint is the first game we've seen compatible with this gun controller, but it's unlikely the last if Sony is serious about the accessory. Sony is shipping PlayStation VR in October with 50 games planned to release before the end of the year, and given the importance of successfully launching PS VR, it makes a lot of sense for this accessory to be ready to go sometime next year after the launch of the headset.