The destruction of Syrian heritage by terror group ISIS is being combated with a new weapon: VR.
This month non-profit organization The Arc/k Project launched a Kickstarter crowd-funding campaign for Perpetuity | Palmyra, a VR app that aims to virtually restore the historic Syrian site of Palmyra, an ancient city that was destroyed by insurgents in 2015. Much of what remains now is simply rubble, having been looted and ruined, leaving over 3,000 years of history in devastation.
The Arc/k Project wants to do what it can to help preserve a past that's in serious danger of being forgotten. To do this, the team wants to virtually reconstruct the city using crowd-sourced photogrammetry. That means calling upon the thousands of existing pictures of the city to recreate objects and buildings as 3D scans. In another project, for example, the team recently uses around 15,000 images to r100-year-old0 year old locomotive with realistic, authentic results. With the city accurately reassembled, you could explore it inside VR.
"It goes without saying that our collective cultures play an invaluable role in how we live our lives as well as how societies rebuild after such a national trauma," Executive Director Brain Pope told UploadVR. "Those currently on the ground in Syria have to rightfully prioritize citizens' lives and humanitarian efforts over cultural preservation, but we saw an opening for everyday citizens to contribute by "mining" the past for photos of lost heritage. We believe that this sort of empowerment will not only show people of the region that they can make a difference but also it will allow for the archiving of such culture for all future generations."
But the project isn't designed to simply let people virtually visit the city; it could also one day be used as accurate data for restoring Palmyra, too. The Arc/k Project sees Perpetuity as an educational tool in a range of ways; not just a virtual textbook but also a beacon for the importance of preservation.
The Kickstarter campaign is looking to raise $75,000 by April 5th. Pledging $25 will get you access to the experience as well as some exclusive extas
"We're asking for $75,000 this time around, which may sound like a lot, but once funds are divvied out over technology research, VR development, and processing times, there isn't much breathing room for innovation," Pope added. "If we were to aim for something like $500,000, we'd be able to add even more details and expand the project to include educational initiatives: immersive courses on cultural preservation, the power of photogrammetry, and the importance of studying our history experienced within the Palmyra VR environment!"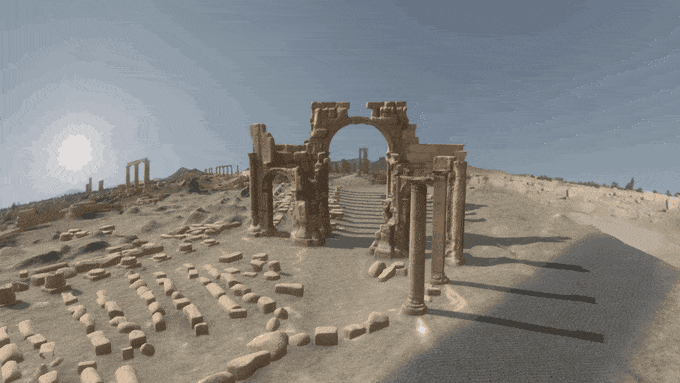 But even simply raising the funding may not be enough. Once the team has finished up work on development, how do they make sure it actually gets into people's hands? Pope says that's where the most work needs to be done.
"If it's not influencing people, teaching them where they're from and helping them form an identity with themselves, then what good is it? Particularly in the case of Syria right now, we have to consider ourselves one of the temporary trusts for the Syrian cultural heritage, waiting for the day that the conflicts in Syria will be over, such that these archives can become a crucial part of the drive for the Syrian people to rediscover and rebuild a sense of their own identity."
To that end, the group is talking with a potential partner right now about making its content accessible for those most affected by the tragedy.
"We are hoping to complete V2 of Palmyra within 18-24 months, and will be keeping our potential donors up to date on any unforeseen delays," Pope concluded. "Since we're looking to include at least a dozen sites in Palmyra and at such high detail, we plan to spend most of this time finding photos and reaching out around the world for any archive materials that might aid us. The actual processing of multiple solves will likely be achieved over the course of 3-6 months."