Not wanting to be left out of the E3 conversation, Razer has today announced the new iteration of its VR headset for the Open Source Virtual Reality (OSVR) ecosystem, the Hacker Dev Kit 2 (HDK 2).
For those that don't know, the HDK line is designed as a range of developer-focused HMDs that allow for custom setups and modular updates. Highlighting this refreshed model is an upgraded display said to be on par with both the Oculus Rift and HTC Hive. It's a dual setup consisting of two 2160×1200 OLED panels fitted with Image Quality Enhancer (IMG) technology which reduces screen door effect and a 90Hz refresh rate. That latter part is essential, bringing the device in line with the 90fps minimum standard set by Oculus.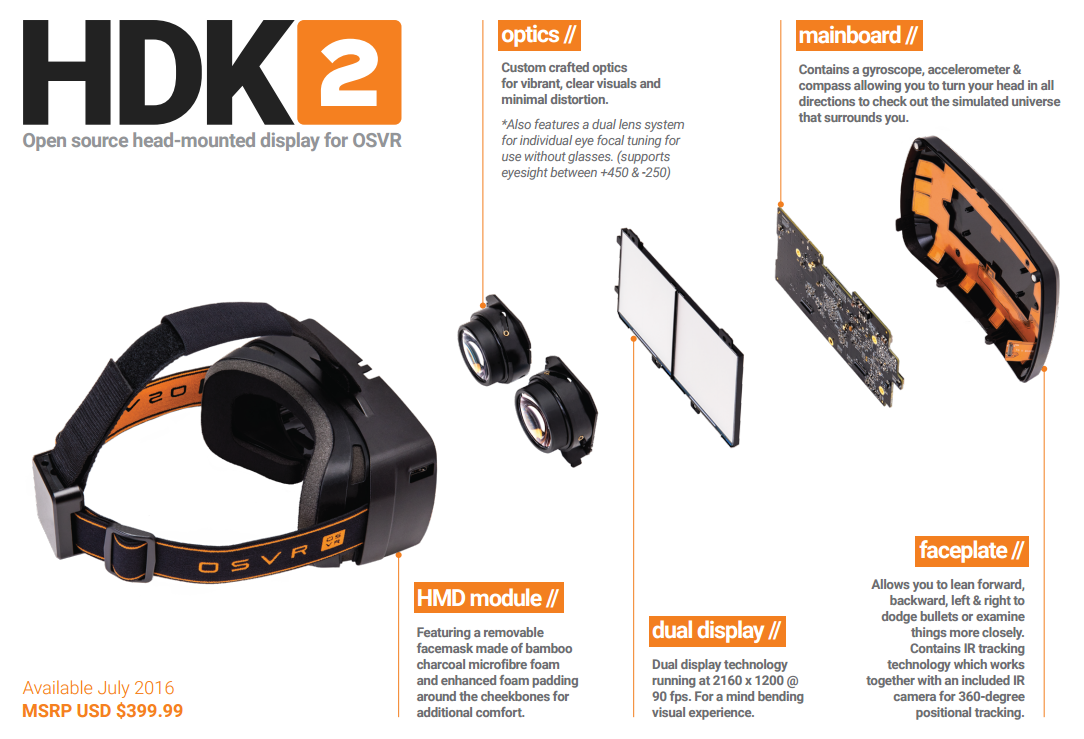 The device will be at E3 this week, showcasing a new experience with the Gloveone motion tracking gloves from Neurodigital Technologies. The HDK 2 will also be getting exclusive content which will be revealed soon, suggesting that Razer and OSVR is readying to frame this device as a true consumer-ready HMD that fans of VR will want to check out, though that somewhat conflicts with the 'Hacker Dev Kit' name.
That said, if it succeeds in pulling this off then the HDK 2 would be a considerably cheaper alternative to both the Rift and Vive, going on sale next month for $399. Interestingly the last version of the original device, the HDK 1.4 will continue to be sold at $299.
That's not all Razer and friends have to announce on the OSVR front; the company is also lifting the lid on the OSVR Developer Fund. This is a $5 million content accelerator program that's open to studios of all shapes and sizes and designed to get people working on OSVR. Razer will purchase the games codes of successful applicants "in bulk", as well as provide marketing and promotional support for products.
So there's your OSVR E3 update. Is it enough to keep them in the conversation going forward?