Today, Oculus released their long teased "casting" feature for Oculus Go.
Until now it has been difficult to show Go to friends and family since you can't see what they see when wearing the headset. When demoing a tethered VR headset to friends or visitors, though, the ability to see on your TV/monitor what the person in VR sees is valuable. With Go, there isn't a TV or monitor present so using it in the same room as others has been an isolating experience.
With the latest update for Oculus Go, you can now see a live view on your smartphone of what the person in the Go is seeing. In the future, this feature will be expanded to include Chromecast, so everyone in the room can see the VR view on a TV. The feature started rolling out gradually to everyone this week, according to Oculus.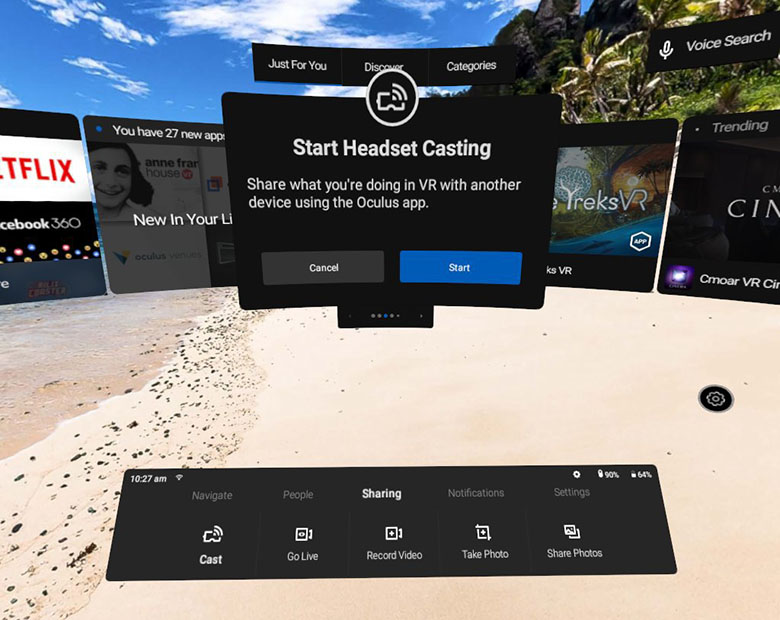 Casting was one of the top user requested features for Go, and has been anticipated for months now. Oculus CTO John Carmack first confirmed that casting was in development on Twitter all the way back in February, months before the Go headset shipped. The day after launch, Carmack once again commented on casting on Twitter, saying that he had a working demo, but that it would take a while to properly integrate into a release.
Since the Go and upcoming Oculus Quest VR gaming console run the same operating system, Oculus' fork of Android, casting should also be present for Quest on launch. If TV casting is launched by then, it could make Quest a more social experience in living rooms and other shared spaces.