Jen-Hsun Huang, CEO of NVIDIA, took the stage during the keynote of this year's GPU Technology Conference to discuss the future of computer graphics technologies at his company. Huang outlined the five pillars that NVIDIA's is focusing on for its future-facing projects. One of these pillars was, of course, virtual reality.
"VR is not just a new gadget its a brand new computing platform," Huang said. "…[It] can take you to places you can only dream of."
To underscore that transportive power, and to show off the graphical processing power of NVIDIA's technology, Huang unveiled a slice of his company's Everest VR experience.
[gfycat data_id="OnlyBeneficialBrahmanbull"]
Everest VR was created using a process called photogrammetry. According to Huang, this meant gathering over one billion pixels from Mt. Everest photographs and recompiling them into an interactive, explorable, photorealistic 3D model.
In addition to Everest, NVIDIA has also been partnering with NASA to create the Mars: 2030 VR experience. This experience, according to Huang, was created by meticulously studying the photographs gathered by NASA's probes and rovers in order to recreate the Red Planet with unprecedented realism.
[gfycat data_id="UncommonPolishedCottonmouth"]
Huang revealed that Mars 2030 will be demoable from the show floor at GTC 2016 and, to kick off those demonstrations, he contacted Apple Inc. co-founder Steve Wozniak via video chat live on stage. Wozniak donned an HTC Vive headset and became the first person outside of the development team to experience Mars 2030.
[gfycat data_id="TastyAmazingBighorn"]
Wozniak responded to the demo with childlike elation. He was instructed by Huang to enjoy the rest of the demo and to let the team know if he is able to rescue Matt Damon.
In addition to these shock and awe displays, Huang also used his time during the keynote to announce that the robust NVIDIA light rendering platform known as Iray will be made available to VR developers in June through a new program: Iray VR.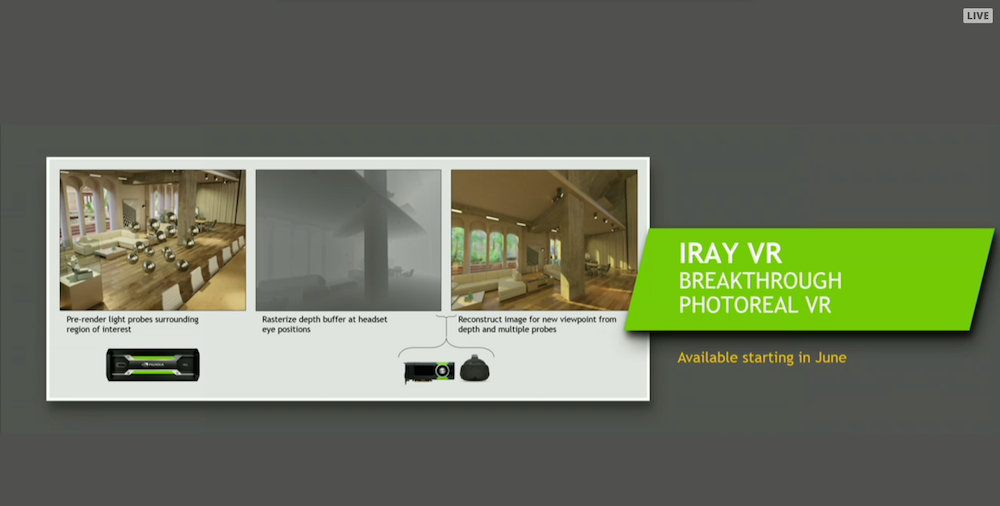 The Iray system uses specially designed "light probes" in order to create 3D lighting effects that are as realistic as possible. Each of these probes, according to Huang, took one hour on an 8 GPU system to render and there are 100 of them in total. Huang demonstrated the effects that this new system can bring to VR experiences by showing an architectural Vive visualization of the new NVIDIA headquarters.
[gfycat data_id="FavoriteCanineAquaticleech"]
Iray VR demands some serious computing power, and so Huang also announced that a companion program – Iray VR Lite – will be releasing to developers in tandem with the full application.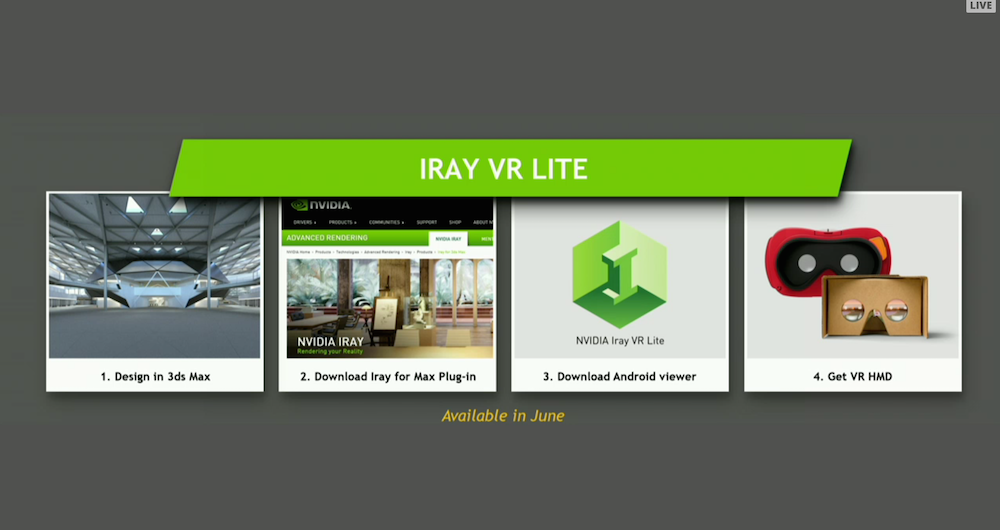 Iray VR Lite allows devs to easily turn their Iray powered experiences into compressed photospheres. These photospheres can then be immersively experienced by users with a smartphone and a Google Cardboard or Viewmaster VR headset.
NVIDIA is a company with a heavily demonstrated interest in VR. Its GTX 970 graphics card is one of two such devices specifically approved by both Oculus and HTC to power their Rift and Vive headsets respectively.