I remember the first time I showed my PSVR to a 10-year-old. Or, more specifically, I remember the deafening crack I heard when he tried to yank the headset's visor forward without pushing in the button to move it. I remember biting my lip with anxiety as he threatened to smash a Move controller into a wall, and the tedium of continuously explaining that he couldn't turn around. It was, without a doubt, one of the most stressful VR experiences I've had.
Now, in comparison to PSVR, Nintendo Labo VR is a 'bad' VR headset. It's not even a contest; a VR experience powered by the Switch hybrid console was never going to match up. If you're a VR enthusiast looking for a high-end experience, this is not the device for you.
But Labo VR is something I could happily hand off to any child or, better yet, build alongside them. And, despite it's many shortcomings, it's also something I could enjoy playing with them. It's VR infantilized, simplified and gamified. That, in some senses, is as significant a step forward as the next wave of high-end devices coming our way soon.
Say Goodbye To Spec Sheets
Labo VR will undoubtedly underwhelm even the most casual of VR fans. There is, for starters, the 720p display, which will evoke unwanted nostalgia for anyone that used the first developer kit for the Oculus Rift six years ago. The lines between pixels are bold and distort the picture, leaving you longing for the improved clarity of other devices. The slightest twist of your head brings in incredibly noticeable motion blur, too.
Then there's the three degrees of freedom (3DOF) tracking, which is already starting to feel like a relic in the wake of the Oculus Quest and Vive Focus. You can point and tilt with controllers and twist your head to look around, but you can't physically move your hands and head through virtual space like in those headsets. Neither can you escape the fact that Switch's Nvidia Tegra X1 chip, while powerful, just isn't up to providing the epic experiences we expect out of high-end VR gaming. By all accounts, it's a spec sheet that looks pretty glum.
If it could, though, Labo VR would throw that spec sheet out the window and tell you to get your head out of the books. Above all else, Labo VR is to be enjoyed. It's free from many of VR's complications; the wires, PCs and external sensors. Its games aren't multi-hour adventures with upgrade trees and side missions but instead a hodgepodge of virtual experiments, designed to be snacked upon in small bursts by minds that find engagement and fascination in, for example, steering a virtual RC car.
Social VR That's Actually Social
There is very little to explain here and no real opportunity to get lost. Labo VR sets your expectations accordingly, instructing you to sit down before playing and making sure you start every game with the right peripheral in place. It prioritizes user-control and comfort over all else, letting you pull the headset away from your eyes at a moment's notice and dive back in hassle-free.
Nintendo has, for years, expressed concerns about VR's isolation factor. This is a company that's long emphasized the joy of play and sharing it with others. It argues that cutting off from the outside world and sticking your head inside VR is counter-intuitive to that mission. In Labo VR, though, the company has found an intriguing workaround, if not a long-term solution, to that perceived problem.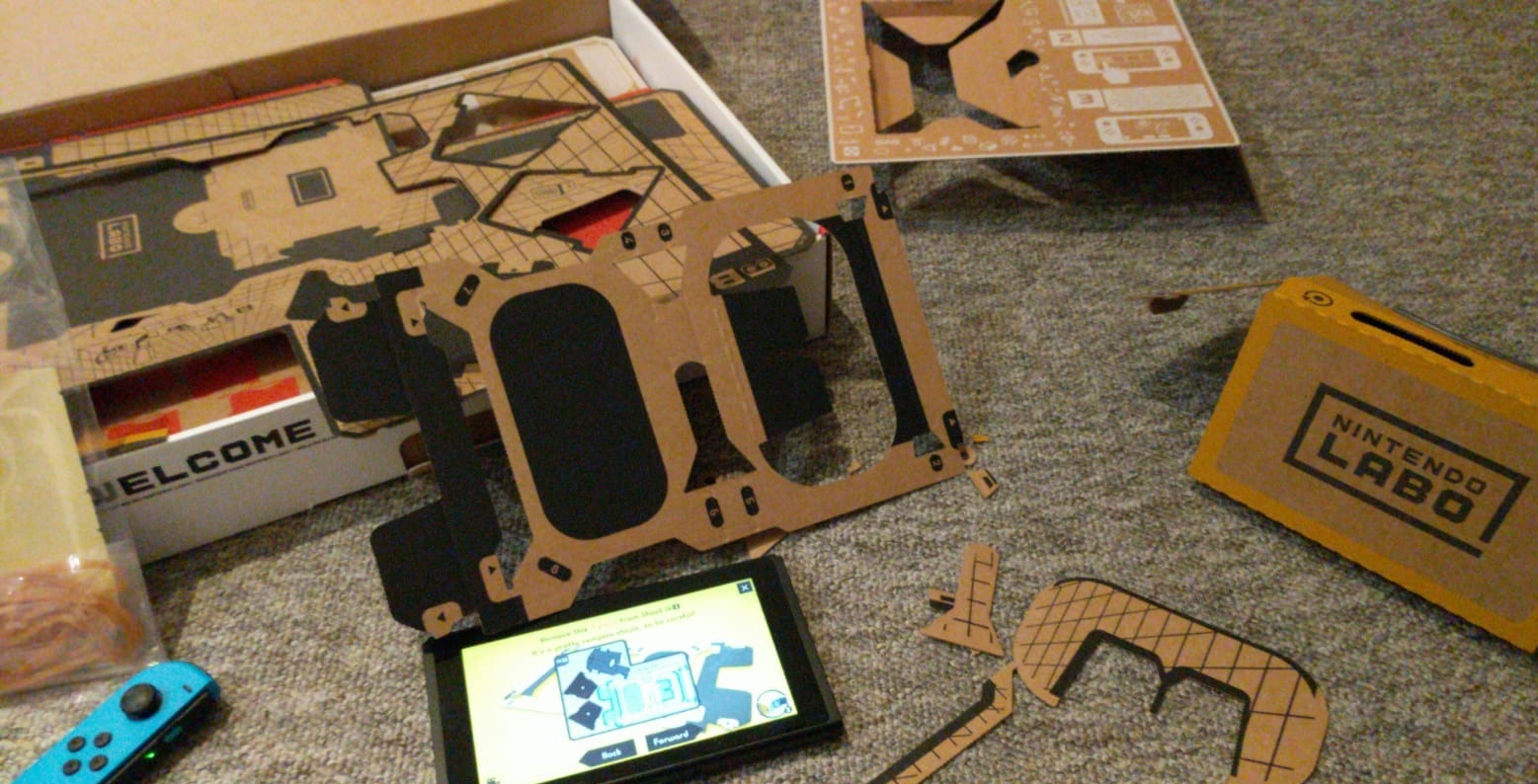 When assembled, Labo feels like a pass-and-play headset. The lack of head strap makes it easy to hand over at the moments notice. You don't need to describe what you're seeing because, well, you can just show it instead. You're also not handing around a $399 headset and controllers. The Switch itself might be an expensive console, but it's nestled cozily inside with spongey stickers and a top protector that keeps it from falling out. The cardboard shell is tough enough to let you build with confidence and last a good while without any major incidents. And, if there are, replacing the peripheral in question is a much cheaper prospect than replacing an HTC Vive.
These might not be entirely new concepts — Mattel's Viewmaster reboot adopted many of the same principles — but this has a library of great content ready and waiting for you (more on that later in the week). It's also bolstered by Labo VR's wonderful 'do it yourself' philosophy.
DIY Delights
Much of the joy of Labo VR is in the building process. Last night I sat and built the wonderfully ridiculous bird peripheral with my partner. We worked towards a common goal of creating a VR experience that we then swapped between us, taking turns at marveling at it. While far from the most impressive VR game I've played, I was able to share it in a way I haven't before. And that's not even getting to the core of enjoying this stuff as a family, something that's been challenging to do on a regular basis in the VR landscape.
And there's value, too. The $80 VR kit offerings five things to build that will take serious time to get through. I've built two things and the software it comes with smartly locks away games on peripherals you haven't yet made. You're essentially paying $60 for a full game and $20 for a piece of hardware with the promise of future support adding longevity.
Would I like to see a better version of Labo later down the line? For sure; I've struggled with some of the minigames that use 3DOF motion controls and I'd welcome an optional head strap for the times you're playing alone to save my arms a little pain. But Labo turns VR into something it's never really been before: a toy. It's a wonderfully mad invention that can be trusted with children and shared as an experience. We'll go into more detail about the system's more specific elements, the peripherals, games and extras, later in the week. If you're reading this as an UploadVR regular, there's a good chance that Labo VR isn't for you. But, if there's someone younger in your life better suited to its simple VR pleasures, I can't recommend it enough.