Today BigBox VR revealed some of the new character skins, legendary gun skins, weapons, and map updates coming to Population: One with the Season 1: Uprising update tomorrow. You can watch the brand new trailer right here:
Season One kicks off tomorrow on February 25 and is scheduled to last for 10 weeks in Population: One and will include tons of new goodies and content for players. In addition to map changes there will be new skins and characters as well as new items like shield soda, a knife, the light-machine gun (LMG), katana, and zone grenade. We'll have more details on how each of those work soon.
We still don't have any information to share about the Battle Pass pricing, but it should work similarly to other live service games like PUBG, Fortnite, and Warzone. You'll pay a small fee to subscribe to the season which will unlock specific rewards immediately and should then also unlock better rewards as you progress through the tiers of the Battle Pass.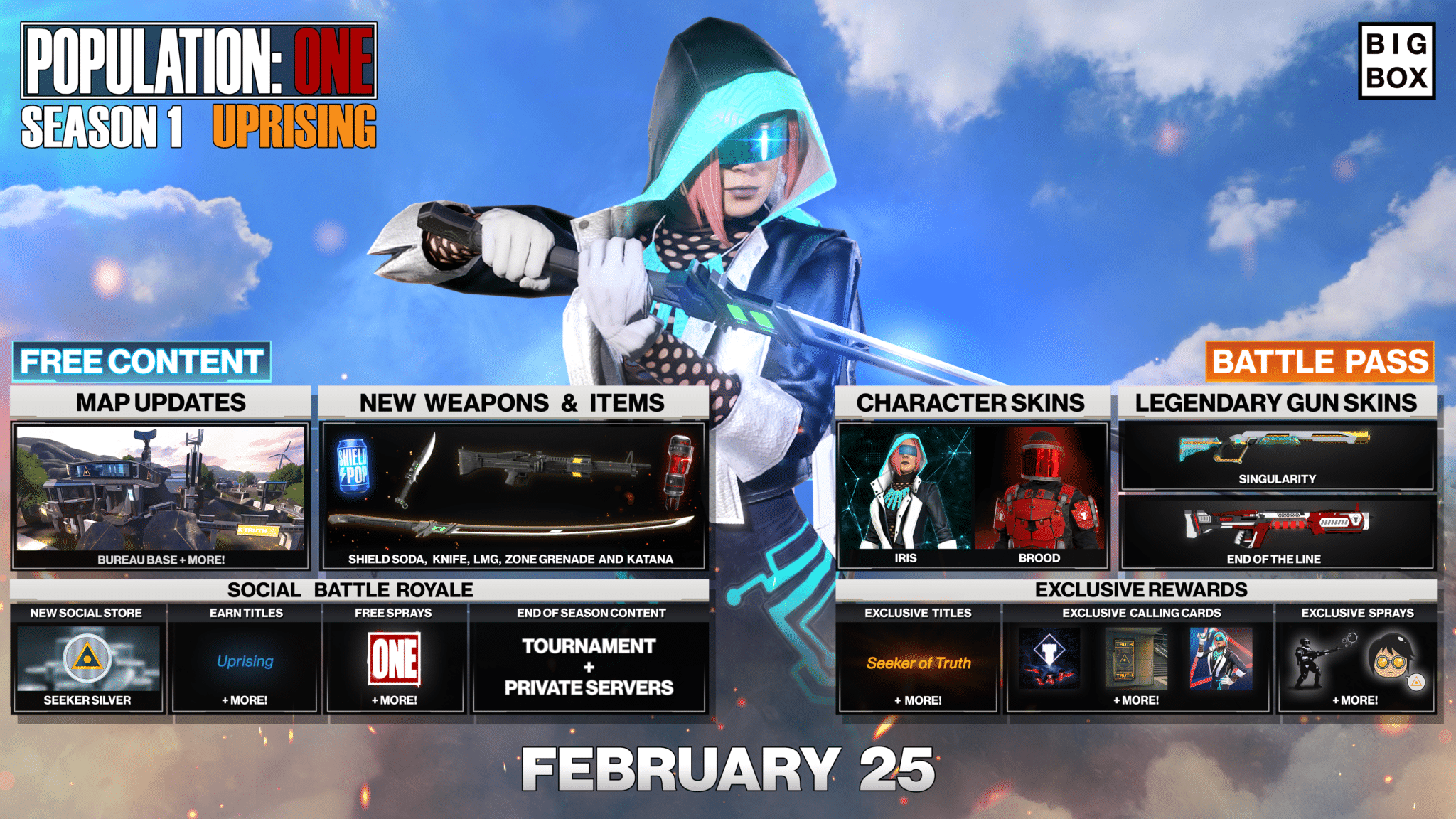 In the infographic above you can see the items on the left are included in Season One for free, such as the map updates and new weapons since those directly affect gameplay. But then on the right side you've got things like character skins, gun skins, calling cards, and so on. In other words, nifty little cosmetic rewards that don't give you an edge in gameplay at all.
Population: One's Season 1: Uprising goes live tomorrow on February 25 and it's a big deal since BigBox VR's breakout battle royale shooter has proved so popular with over $10 million in sales so far on Quest alone. You can get the game on PC VR via Steam and on Quest, with full crossplay, right now for $29.99.
And if you're on Oculus, you can subscribe to the "event" page to get notified once Season 1 launches.