I'm standing in a dark room looking at a holographic browser window displaying an Amazon listing for a pair of Nike shoes. The window is slightly translucent and locked in space in front of me. I lean around it and see it is a completely flat, 2D object in 3D space – the flattest screen possible.
Instinctively, I reach out to interact with the page, tapping at the picture of the shoes to get a better look. Instead of getting a zoomed in version of the flat image, a 3D model of the shoes appears. Reaching out and grabbing it, I was able to bring it closer to my face and examine the details.
Using both hands, I pull the 3D model in opposite directions, sizing it up to about the same size as my foot. Then I place it over my own shoe and slipped into the future… a future for AR begins now.
Today Meta, an augmented reality company based in California, announced their second development kit, the Meta 2. The much improved kit is currently available for preorder on Meta's website for $949 and is slated to ship in Q3 of this year.
Last week I had a chance to stop by Meta's offices with Robert Scoble and got a tried the device which impressed everyone at TED out for myself, and what I saw was AR growing beyond its infancy.
https://www.youtube.com/watch?v=kOD7jGm4Svw
Display
Meta 2 has a 90 degree diagonal field of view, offering a much more immersive experience than Microsoft's HoloLens which has an FOV currently less than half of 90 degrees. In addition to a large FOV, Meta's 2560 x 1440 display allows you to see details in the holograms. Perhaps the most important display factor, for a device whose initial function likely will be at an enterprise level, is that text appears crisp and legible even from a distance.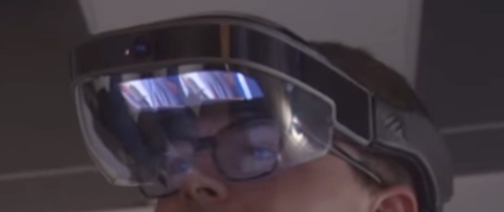 One thing I did notice was my eyes had a bit of trouble converging on images at a super close range. This might be a pitfall of Meta's stereoscopic display technique.
Meta 2's display works by mirroring a standard display positioned above your brow onto the glass in front of your eyes. It produces a 3D image the same way the Oculus Rift and HTC Vive do, by rendering a scene for each eye. This approach greatly differs from, Meta's extremely well-funded competitor, Magic Leap's light field display.
Tracking
Beyond the display, Meta's tethered system also uses a set of cameras and sensors for tracking hand/finger movements and positional tracking.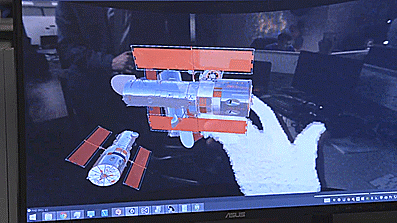 During my time at Meta's offices, I had a chance to experience the device in two stages: one built on top of the previous platform, and one that represents where the technology is today. The main difference is that the current technology no longer uses a peripheral camera based tracking system. However, the Meta 2's inside out tracking still leaves a bit to be desired, but it was effective enough in our short use cases. Out of the multiple areas to compare Meta 2 to HoloLens, tracking is the one where HoloLens wins by the biggest margin.
Meta's hand tracking forgoes the need for specific gestures unlike Microsoft's HoloLens. It should be noted that Meta's hand tracking is not as precise as Leap Motion's impressive new Orion platform, but it worked well for light interaction. Just don't expect to be using it for micro surgery anytime soon.
Although Meta's tracking still needs work, Yishai Gribetz, one of the lead engineers on the tracking system, says he wears it every day.
"I code for the glasses, through the glasses."
https://www.youtube.com/watch?v=YWRjNw7Lqmo
In addition to seeing what the future of online shopping looks like in AR, I got hands on with some other fairly impressive applications that indicated where this technology is going in the future. Including one that showed off AR as a social tool for collaboration.
Tapping the "accept call" button floating in front of me, a video window pops up and that shows someone waving at me– it's an AR Skype call. The video window disappears, and a moment later in its place stands a volumetric capture of the same person in 3D holographic form. Although was a low resolution capture, Meta says they are looking into higher resolution capture systems like the ones used by 8i and Uncorpreal.
What happens next is even more impressive: the hologram hands me a hologram over the internet. I was able to grab it and together, we were able to move it around the space, manipulate the size, and hand it back and forth. While the collaboration was limited by the things we were able to do, what Meta has accomplished is a testament to the infinite promise this AR holds.
The Meta 2 represents a leap forward, not just for the company but for the prospect of consumer AR. It still has its challenges to overcome, but it brings developers a step closer to the augmented reality future that many are aware is coming.
The Meta 2 isn't quite ready for the everyday Average Joe to use, and the fact that it is tethered  limits full potential of AR in the near term. However, it is ready for developers and enterprise-level customers who understand the hurdles of early stage hardware. For them it is important to have a platform that can support future development.
Meron Gribetz, Meta's Founder and CEO, sees importance of engaging the development community with its platform.
"We're going to accelerate the adoption of AR and the creation of these killer apps by bringing the community together."
Gribetz says Meta has learned a lot since launching the Meta 1, which a development community of "1000 or so developers." Meta plans to open source many of the "killer apps" they co-developed with its community and UX design guides for their "neuro interfaces" which are grounded in neuroscience and human behavioral research.
Microsoft, recently announced pre-orders and a shipping date, has the advantage of arguably better computer vision at this stage. However, the $3,000 price tag has turned a number of developers off to the prospects of buying in on the platform early. But the Meta 2 might change that.
To paint it in VR terms, it took the Oculus Rift DK1 with an accessible price point and just enough immersive power to create that 'wow factor' to get game developers (16% of them and rising, in fact) to create experiences for VR. Today, a little less than 3 years later, we have multiple headsets of far greater power than the DK1 which exist only because there was a strong initial interest and push. That same magical mixture of inspiration and accessibility needs to happen with AR, and that is potentially the stone that Meta has cast.
Meta 2 Specs and Product Details:
90-degree field of view
2560 x 1440 display resolution
720p front-facing camera
Sensor array for hand interactions and positional tracking
Four speaker near-ear audio
Brightness and volume control
Tethered

9-foot cable for video, data, and power

Support for Windows-based applications (Mac support planned for this year), including:

Microsoft® Office
Adobe® Creative Suite®
Spotify™