The Microsoft HoloLens Developer Kit originally released back in March of 2016. That's nearly two and a half years ago. At that time it's limited field of view of only 30 degrees horizontally was seen as a frustrating, but understandable, drawback. Now the Magic Leap One, the severely hyped upcoming AR headset that no one can talk about, only has a 40 degree horizontal field of view according to uncovered developer documentation.
There's no other way to describe that than as a disappointment.
In a world where the upcoming Leap Motion North Star headset reportedly has a 100-degree FOV and Magic Leap's received over $2 billion in funding by comparison, 40 degrees horizontally isn't much of a "leap" forward at all.
Similar to the HoloLens, using the Magic Leap One will likely instill a "window" effect in your view. Instead of feeling like you're surrounded by a magical, augmented world such as is shown in all of the promotional videos for the device, it's more like peering through a tiny window to another world — almost like holding up your phone with Apple's ARKit or Google's ARCore.
Granted, I have not personally tried the Magic Leap One, but this statistic is troubling. When you combine this number with the lack of a real, live demo and an incredibly lackluster "rock monster" presentation that doesn't even feature hand occlusion, it's all adding up to what will likely be a major disappointment.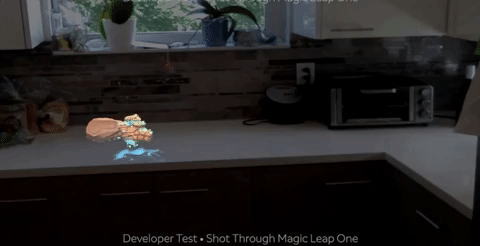 The verdict is still out though and we have to wait a bit longer before delivering any real impressions, but our excitement is quickly dwindling. Magic Leap One will start shipping developer kits this summer.
Let us know what you think down in the comments below!