One hundred and twelve Dave & Buster's locations will soon offer an impressive Jurassic World VR attraction.
The restaurant and entertainment company is partnering with the Virtual Reality Company, VRstudios and Universal in one of the biggest roll-outs for a VR attraction ever seen in North America. Jurassic World VR Expedition arrives decades after Dave & Buster's provided many people their first VR experience by way of relatively primitive hardware, back before the industry went into hibernation. With VR's re-emergence over the last few years the company tried multiple VR attractions that didn't extend far beyond testing.
"The novelty of VR itself is not sufficient enough to build a business around," said Kevin Bachus, Senior Vice President, Entertainment & Games Strategy at Dave & Buster's.
They needed to create something people would want alongside all the other games at Dave and Buster's, according to Bachus, and Jurassic Park is already a popular traditional arcade game for the restaurant chain. With Jurassic World VR Expedition, they also have the chance to draw in visitors excited for the release of Jurassic World: Fallen Kingdom.
Starting June 14, four people at a time can spend $5 each to experience a 5-minute trip together in the Jurassic World VR Expedition simulator. An early version of the system I tried at VRC's offices in Los Angeles featured four HTC Vive headsets each with one controller to point at and "tag" various dinosaurs. Each person is buckled into a comfy chair on the same motion platform. The platform moves in sync with the headset's visuals to produce the feeling of being seated in a vehicle roaming through Isla Nublar. Wind unexpectedly rushed by my face as we were chased by some of the most iconic creatures ever to grace the big screen. For those brave enough to stay focused through it, competing for a high score is as easy as pointing your controller at different dinosaurs and pulling the trigger.
Jurassic World VR Expedition is written and directed by VRC's James Lima, and they waste little time delivering an exhilarating trip using the power of high-end VR graphics combined with best-in-class haptics, sound and tracking. I experienced both the awe and action of this famed movie franchise in less than five minutes, and found myself torn between just wanting to take in the sights and sounds of the adventure and trying to tag dinosaurs with my controller.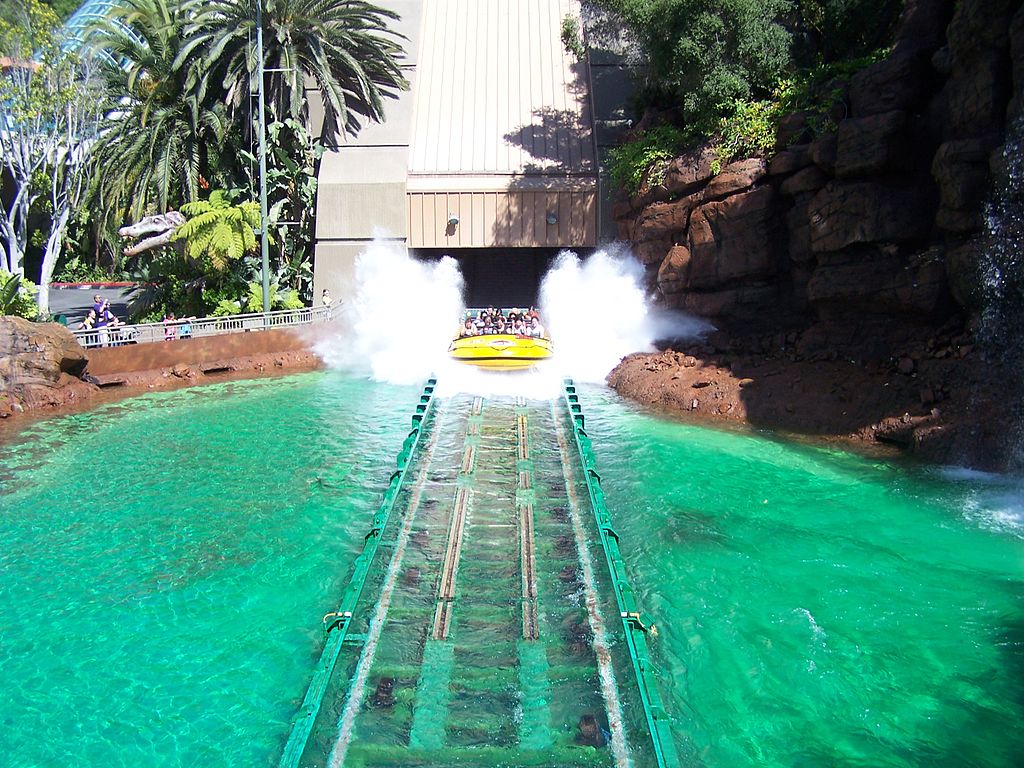 If you've ridden Jurassic Park: The Ride at Universal Studios Hollywood it is impossible to experience this new VR attraction without drawing comparisons. I miss the water of the Universal Studios ride, the rush of a real world drop and the look of terror on my friend's faces as we did this all together, but for $20 during a night out at Dave & Buster's four friends can still scream together and lock hands while feeling just as close to the dinosaurs as the more classic Jurassic Park ride.
I've seen a lot of different VR attractions, from Gear VRs on a roller coaster to ultra-high end wireless backpack systems, and it seems like Dave & Buster's might've found a winning formula here. The system doesn't take up a lot of space, people get in and out quick, it feels and looks great, and the $1-per-minute pricing seems reasonable when it is presented in the context of other arcade games.
"Hopefully we've positioned ourselves in a good spot. Tactically, I think it is spot on," said VRC's co-founder and Chief Creative Officer Robert Stromberg. "It's now a matter of seeing the results."
For the parents out there, Dave & Buster's sets a height restriction at 42 inches for Jurassic World VR Expedition and recommends that only children 10 and older play.
Correction: An earlier version of this post had the incorrect title for Robert Stromberg. It is now correct.