Today is the day that the long-awaited HTC Vive becomes available for pre-order online.
By going to the product's web page, interested customers can reserve their unit for the device's April 5 ship date. Demand for these high-end (and relatively expensive) headsets is something of a question mark for the VR industry. The Vive costs around $800 in the United States alone, so, today's pre-order serves as a testing ground of sorts to prove the system's mass market viability. That test may be going better than expected as some users began reporting sold out screens during their checkout process just minutes after the pre-order went live at 7 a.m. PST.
Some early adopters trying to purchase their Vives were shown this screen during the checkout process: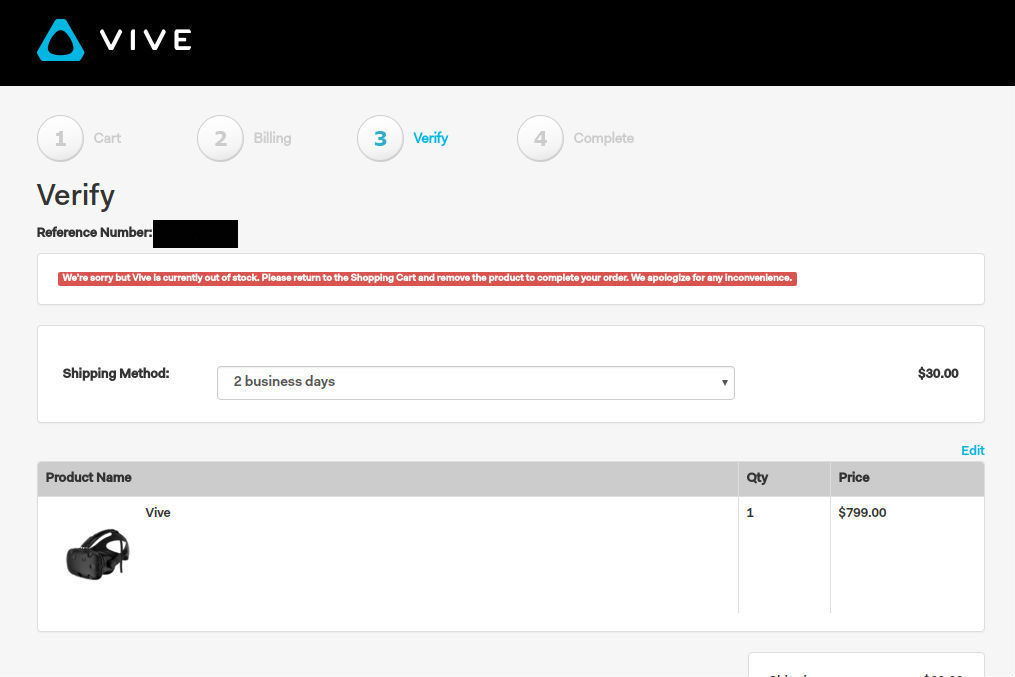 For some, the dreaded message appeared less than 1o minutes after the pre-order period began.
Read More: Vive International Pricing Revealed
Early reports are indicating that this is most likely a glitch. Refreshing the error-ridden page, or restarting an order entirely, have both worked to resolve the issues and help afflicted customers complete their signup process. HTC itself tweeted out that affected customers should refresh the page showing the error in order to move past it:
If you are trying to pre-order Vive and receive an "out of stock" message, please refresh your page.

— HTC Vive (@htcvive) February 29, 2016
Glitch or not, the presence of these sold out screens is a positive indicator that the Vive's pre-order is in high demand and the headset is likely on the right track toward commercial success.
Read More: Vive and Rift's PC Specs Compared