This has been republished from late May 2018 to coincide with E3 week.
For a few weeks in real life last year I went to a boxing gym. Before long I injured my wrist and eventually stopped going because having a kid has a way of limiting your time (plus I'm lazy.) However, I jump at the chance to get up and move around when in VR. Livestreaming Beat Saber has been a ton of fun and reviewing games like Knockout League or Sparc helped me work up a good sweat. Now Creed: Rise to Glory may soon be added to my list of favorite VR games to use as exercise.
During a recent pre-E3 demo showcase from Sony, I got the chance to go hands-on with Creed once again. Previously, I played the game on Vive at GDC earlier this year, but this was my first chance to play it on the PSVR. Luckily, I hardly noticed a difference.
Creed: Rise to Glory has the feel of something that might be marketed as a movie tie-in game, especially since Creed II is set to hit theaters later this year, but it stands on its own as far as we can tell. In fact, other than seeing Rocky at the start of my demo before I started training I'd never have known this game was related to Rocky or Creed at all.
Perhaps they'll incorporate more references to the source material before release, because I'm told a lot of stuff that we've seen at preview events is all just placeholder for now. For example, the voice over for Rocky that's currently used in the demo is one of the worst Sylvester Stallone impressions I've ever heard, but thankfully it isn't final.
In terms of content, this build was basically the same as the GDC demo. I was fighting a new opponent this time, someone a bit faster but who did less damage, so it was a little different.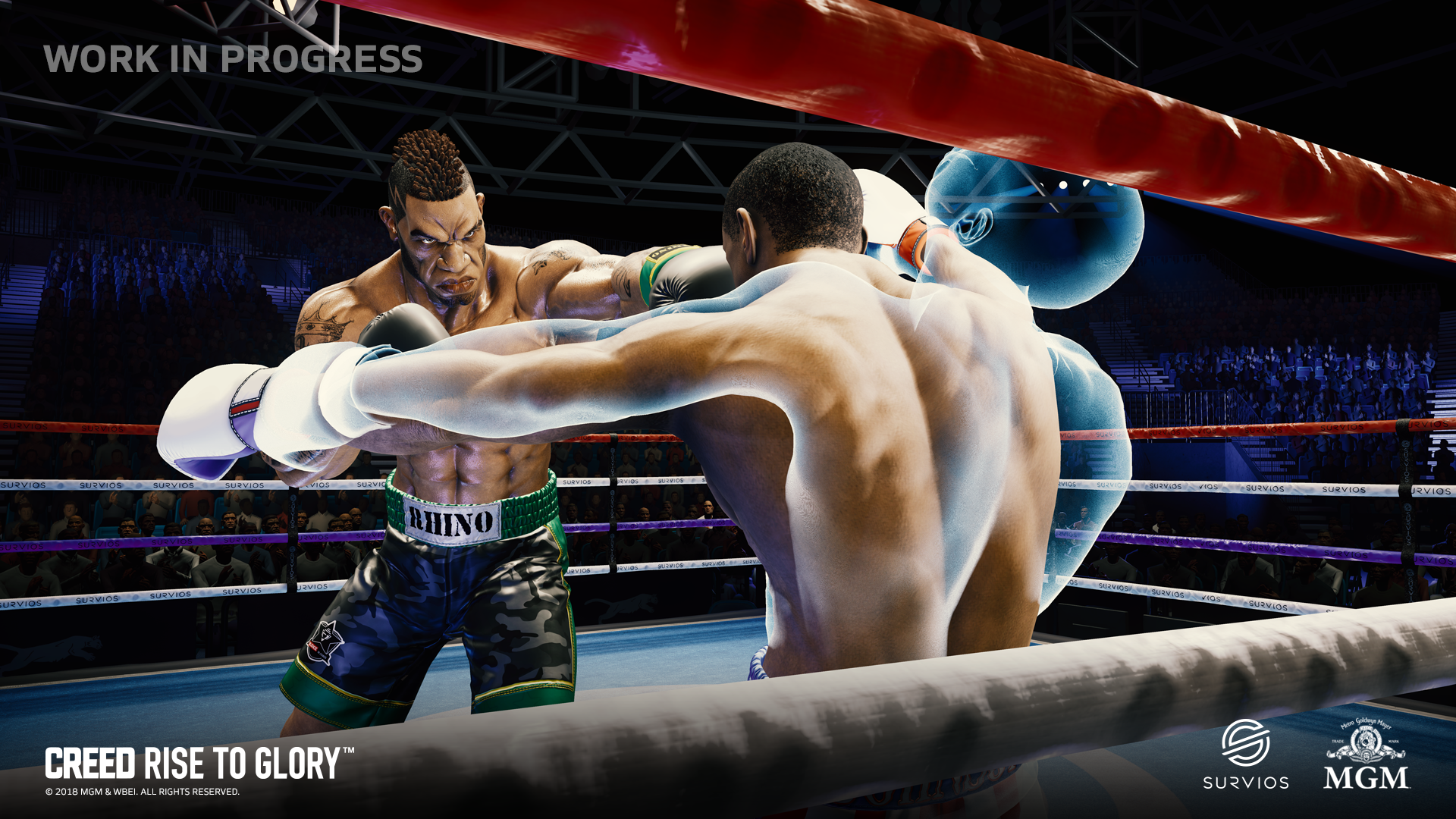 The core of what makes Creed special among VR boxing titles is how it threads the needle between silly, arcade boxing like Knockout League and realism-focused simulation along the lines of Thrill of the Fight. I compared it to Fight Night in my previous article and that feels pretty accurate still.
Survios created what they're referring to as "Phantom Melee" system that helps players simulate what it would feel like to actually be in a fight. Since you can't actually force a player to get knocked back or to feel a hit in the face, they have you mimic your character's movements at key scenes to replicate the reactions.
It's a bit hard to explain, but if you watch the video included above (or here) you can see it in action during my demo. Specifically, watch from the 1:12 point in the video.
Boxing as a sport is a great fit for VR because of how active it is and how focused it is on hand movement. Since motion controllers (and headsets) do a great job of tracking movement already, it's a natural fit.
Plus, since you're always facing straight ahead to match up with your opponent you don't need to spin around in 360-degrees or move around your room, so the PSVR's tracking limitations are never noticed. I was able to duck and weave and dodge around without ever losing tracking at all.
Creed: Rise to Glory is slated for a Fall 2018 release on Rift, Vive, and PSVR. And for PSVR players, there will be an exclusive character for fans: young Rocky Balboa!
Let us know what you think of Creed so far down in the comments below!