GameFace Labs is a company I've seen at countless VR events. Its CEO, Ed Mason, has frequented the VR conference circuit for years now showing off headset designs. E3 was no different as I found him in a room opposite Intel's wireless Vive accessory — though Mason asked that I come back the next day rather than see his demo right then. Unfortunately I didn't get the chance to come back and see what he was showing with my own eyes before the conference ended, but after the show we did have a chance to dig into what GameFace is working on: the GF-LD headset.
The latest headset from the company shown at E3 last week promises integration with Valve's SteamVR Tracking technology and support for both PC-based SteamVR games as well as Android VR content.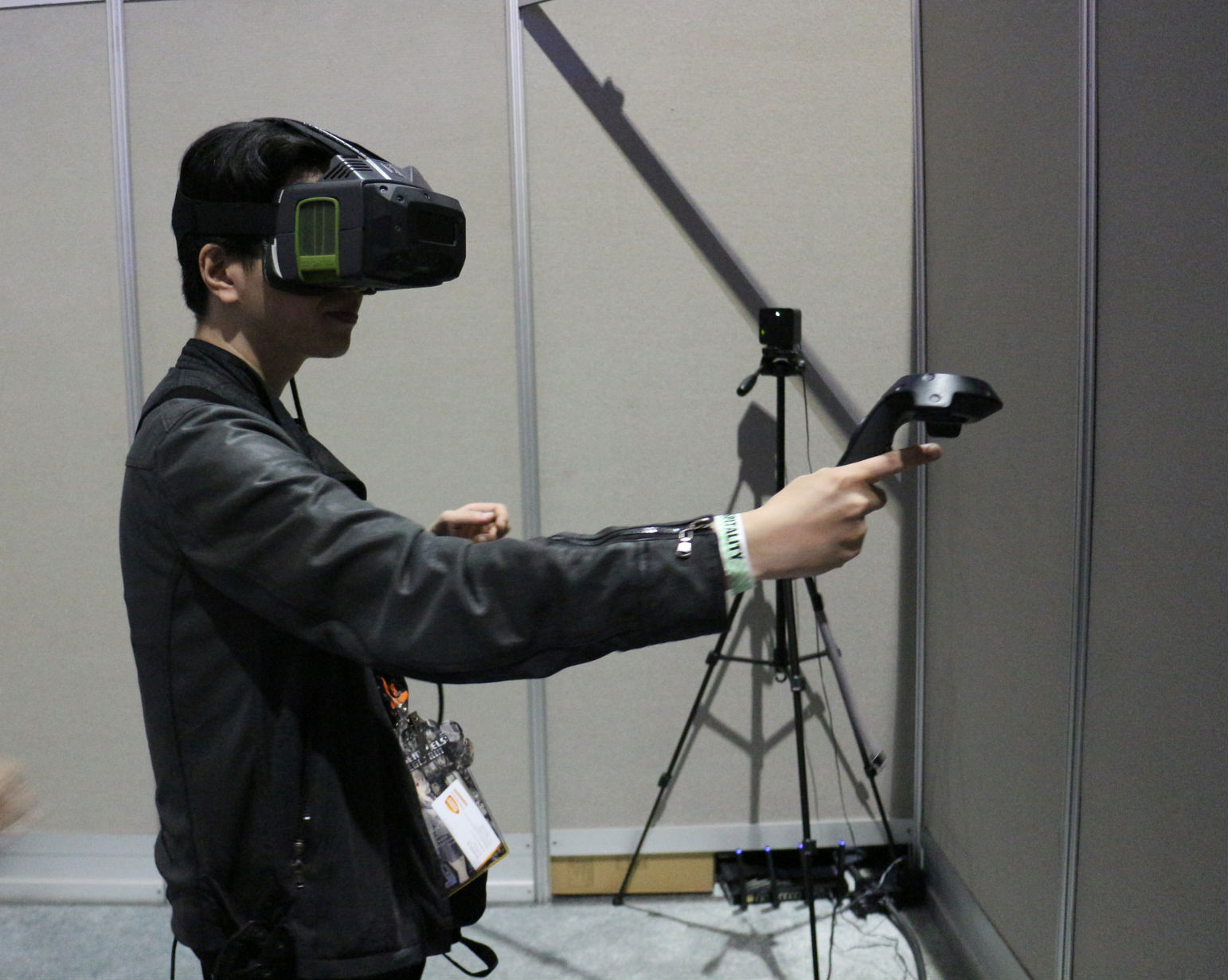 The GF-LD "is the first headset to integrate Valve's positional tracking solution into Android at a firmware level," according to the company. It is said to be capable of processing the tracking data in the headset itself from communication with a SteamVR base station, and is pitched as being able to work with both Daydream and Cardboard content, as well as PC SteamVR content "via a tethered machine."
The company is also planning another project, the GF-DD headset which lacks the SteamVR Tracking but promises compatibility with both Daydream and Cardboard. This less expensive unit is said to be available by the end of this year while GF-LD with SteamVR Tracking is aiming for availability to developers in the middle of 2018. Both headsets are said to feature a Tegra chip and 2560 x 1440 OLED displays, along with Leap Motion, front-facing stereo cameras and eye-tracking.
We're bummed that we didn't get the chance to see this for ourselves at E3 — we'll try to arrange a demo in the coming weeks. What the company is doing is a cool idea — offering a wide range of content to a single head-mounted display — but it is also going to be very difficult to pull off. With the SteamVR headset slated for 2018, Mason certainly has a schedule in mind that would provide time to work on it.
The VR industry is moving a lot faster than it did in 2013 — when GameFace started — and companies like Microsoft, Google and Facebook are racing to provide better and more convenient solutions built by ever-growing teams. GameFace still seems to be planning an alluring device, but we'll have to see whether it can deliver in this faster-moving environment.
GameFace is offering an SDK for developers that want to integrate positional tracking into their Android VR projects — contact developer_program@gamefacelabs.com for a plugin.