Microsoft's Build developer conference is well underway, and its second day keynote just wrapped up. As promised, pre-orders for the developer editions of its first Windows 10 VR headsets, made by Acer and HP, are now live, and their full specs have been revealed in the process.
The pages for both kits, which ship to the US and Canada in August, outline everything from screen resolution to cable length. Acer's kit, which is already shipping to select developers, and is the cheaper of the two devices at $299. As we confirmed during our hands-on with the kit this week, it features two 2.89 inch LCD displays with a resolution of 1440 x 1440, with a field of view (FOV) of 95 degrees and a refresh rate of 90Hz. Its front-hinged display can be flicked up, and a 3.5mm audio jack allows for audio output and microphone support. It connects to Windows 10 PCs with a single, four meter cable that has a HDMI 2.0 and USB 3.0 connectivity.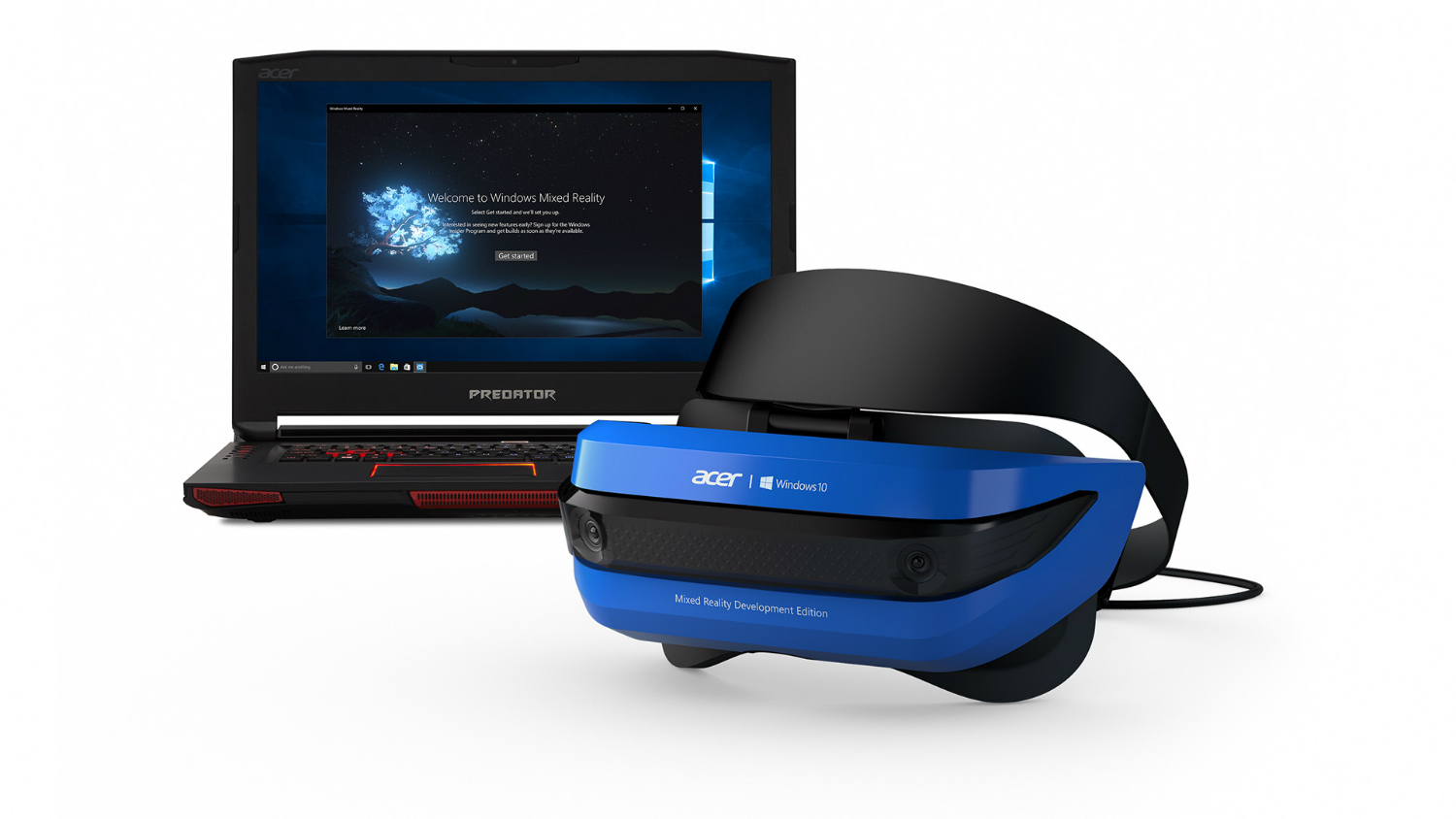 Despite being $30 more expensive at $329, the HP kit is a very similar story. The two display panels sport the exact same type, size, resolution, and refresh rate. Its four meter cable, however, is removable (though still needed to actually use the device). The specs also state the kit comes with a 0.6m cable you could swap out, which would obviously limit the inside-out tracking capabilities of the device. Perhaps this wire is better suited to HP's Omen backpack PC. Also listed is a double padded headband for "all day comfort", which isn't listed for the Acer kit. It sounds like these two devices offer largely similar experiences, with some added luxuries for the HP kit, then.
We've confirmed that these specs aren't likely to change between the developer and consumer releases of these devices, which will likely only be months apart. All Windows 10 headsets, including others made by Dell, Asus, Lenovo and 3Glasses are expected to be available for this holiday season. Microsoft previously noted that these devices will all vary in specs and start at $299, so it's likely that the Acer and HP specs are on the lower end of what you can expect.
Though both store pages note that recommended specs for Windows 10 devices running these kits may vary, they're identical for these two headsets. Both need a device running Windows 10's Creator's Update, both need at least an Intel i7 or AMD Ryzen 7 1700 processor, and both ask for at least 16GB RAM. If you're running these headsets on a Notebook you'll want at least NVIDIA GTX 965Ml or AMD RX 480M GPUs, or NVIDIA GTX 980/1060 or AMD Radeon RX 480 on desktop.
It doesn't appear that these developer kits will be shipping with Microsoft's new 6 degrees of freedom (6DOF) motion controllers that were also revealed today. Microsoft did confirm on stage that the consumer version of the Acer device will come as a bundle with the controllers for $399, however. Consumer release dates for either headset have not been announced.