UPDATE: One of our editors was able to play Final Fantasy XV in VR after the press conference. This tweet shows the game in action.
Final Fantasy XV gameplay (filmed off a TV). @PlayStation#e3pic.twitter.com/wm1gjosSn8

— Upload (@UploadVR) June 14, 2016
Details are still sparse from the developers, but from the demo it does appear to be a contained experience involving combat against giant monsters and not a full-fledged "VR mode" option for Final Fantasy XV.
There also appears to be a blurring effect of some kind that comes in when you're hit by the monster. One button shoots your gun and another teleports you around the battleground.
–
Final Fantasy XV is perhaps the most well known unreleased video game in the industry today. The game has been in development at Square Enix since before the Playstation 3 era even began. XV's impressive visuals and sprawling campaign certainly seem worthy of a long development cycle, but at this year's Electronic Entertainment Expo in Los Angeles, Sony revealed another justification for the decade long delay: Playstation VR Support.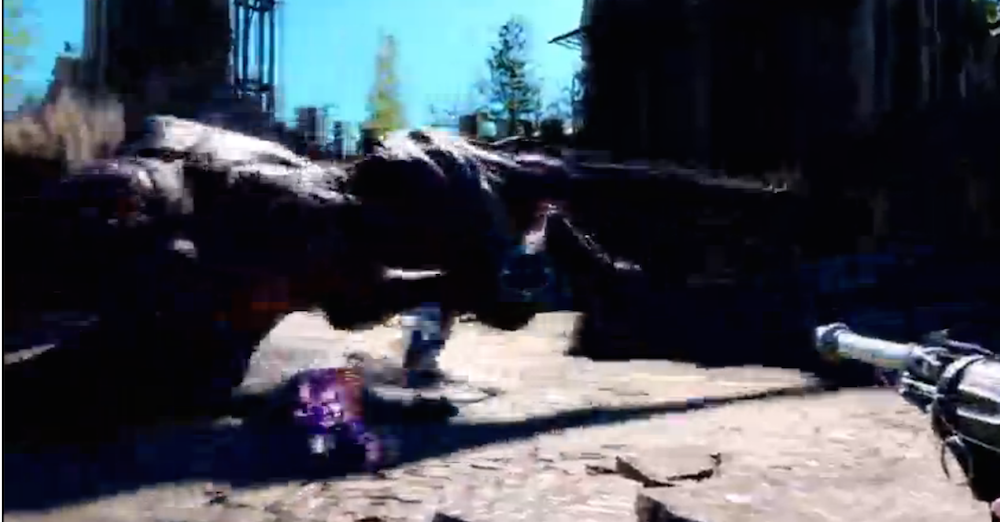 Through a clip that was neither proceeded nor followed by any sort of contextual speech or presentation, viewers at Sony's E3 conference on Tuesday were treated to a view of XV's now very recognizable cast of characters sporting Playstation VR HMDs and battling it out with huge monsters in first person.
This marks a franchise first for the Final Fantasy series which is known primarily for its revolutionary turn-based battle systems, and it only recently made the jump into 3D action. Swinging swords, using magic, and firing bullets through an FPS perspective is something Final Fantasy fans may not be used to, but the added immersion of the PS VR system should intrigue them enough to at least give this a shot.
There is no wor
According to Square, Final Fantasy XV builds a world in which:
"You are Noctis, the Crown Prince of the Kingdom of Lucis, and your quest is to reclaim your homeland from the clutches of the imperial army.

Joined by your closest friends, you will take the wheel and experience a voyage like no other, traveling through the breathtaking world of Eos encountering larger-than-life beasts and unforgiving enemies. You will learn to master the skills of weaponry and magic, channelling the power of your ancestors allowing you to effortlessly warp through the air in thrilling combat."
Details on the XV's VR experience are slim at this point. We don't know if this will be a small slice, mini-game, or fully supported product. We will bring you those details when they become known.
Final Fantasy XV is set to release sometime later this year.