At the World Haptics Conference 2019 Facebook showed a prototype wrist-worn haptic VR/AR device called 'Tasbi'.
The device was created by a team of six Facebook Reality Labs researchers along with an interning PhD student from Rice University.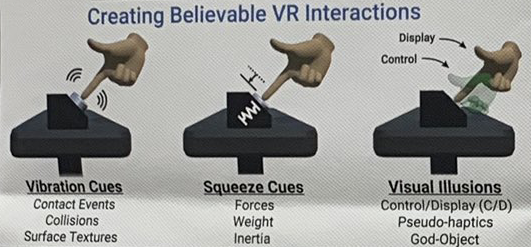 Tasbi is worn on each wrist. It uses a combination of vibrations and squeezing (dynamic tension adjustment) to mimic haptic feedback for virtual objects. Each "tactor" in the band includes an individual linear actuator, so vibrations can be precisely controlled.
In software, visual tricks can suggest the press of a button by showing a finger ceasing movement once it collides with the object. The researchers found the visual tricks only impacted perceived realism in a minor way. The wrist-based haptic device provided most of the sensation even though it doesn't touch any fingers.
Unlike previous attempts at this technique, each tactor in the Tasbi uses a smooth pin such that it is decoupled from the band, which the researchers claim produces "pure, uniform normal forces while maintaining tactor radial positions".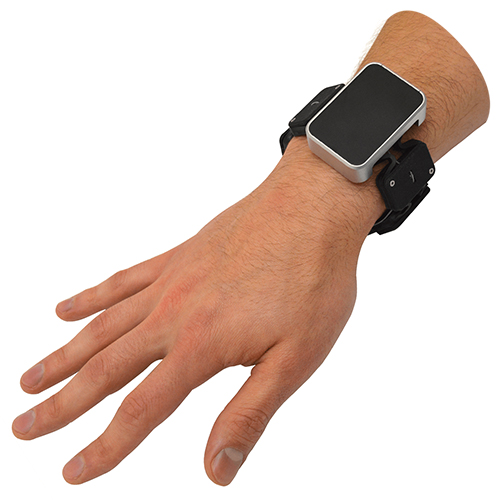 The device does not perform finger tracking in itself. This could potentially be done by computer vision software analyzing the imagery from headset mounted cameras. Another interesting possibility is that the device could use a probing electrical signal to detect the position of your fingers, a technique Facebook explored enough to file a patent on earlier this year.
Of course, a device like this on its own would not be a suitable direct replacement for Touch controllers. It would not be a great fit for traditional gaming given the lack of physical resistance, thumbstick or buttons. However, if the haptics are as convincing as the researchers say, then Facebook might be able to use the research alongside, or as part of, a next generation version of Oculus Touch. The company could also ship it as a non-gaming controller for a future Oculus Go, or even for its upcoming AR glasses.