Relieving your gorilla arm from using the trackpad on the Gear VR too much, Google has chosen to use a simple device for their new Daydream VR platform, a single handed bluetooth controller.
Aesthetically similar to the Oculus Remote (which most people forget about), Google has gone beyond Oculus and packed the Daydream Controller with enough precise measurement modules in it to make into a powerful tool for VR. The controller is a 3 Degrees of Freedom (DoF) device, meaning you can wave it around and use it as a "laser pointer" to select things in VR, similar to the Nintendo Wii's Wiimote. It can detect orientation, movement, and acceleration, similar to how HMD's worked before positional tracking, like the Samsung Gear VR and Google Cardboard. It's a far cry from a full-on positionally tracked controller like the Vive's motion controllers or the upcoming Oculus Touch, but it's still a huge improvement from the single magnetic button on Google Cardboard.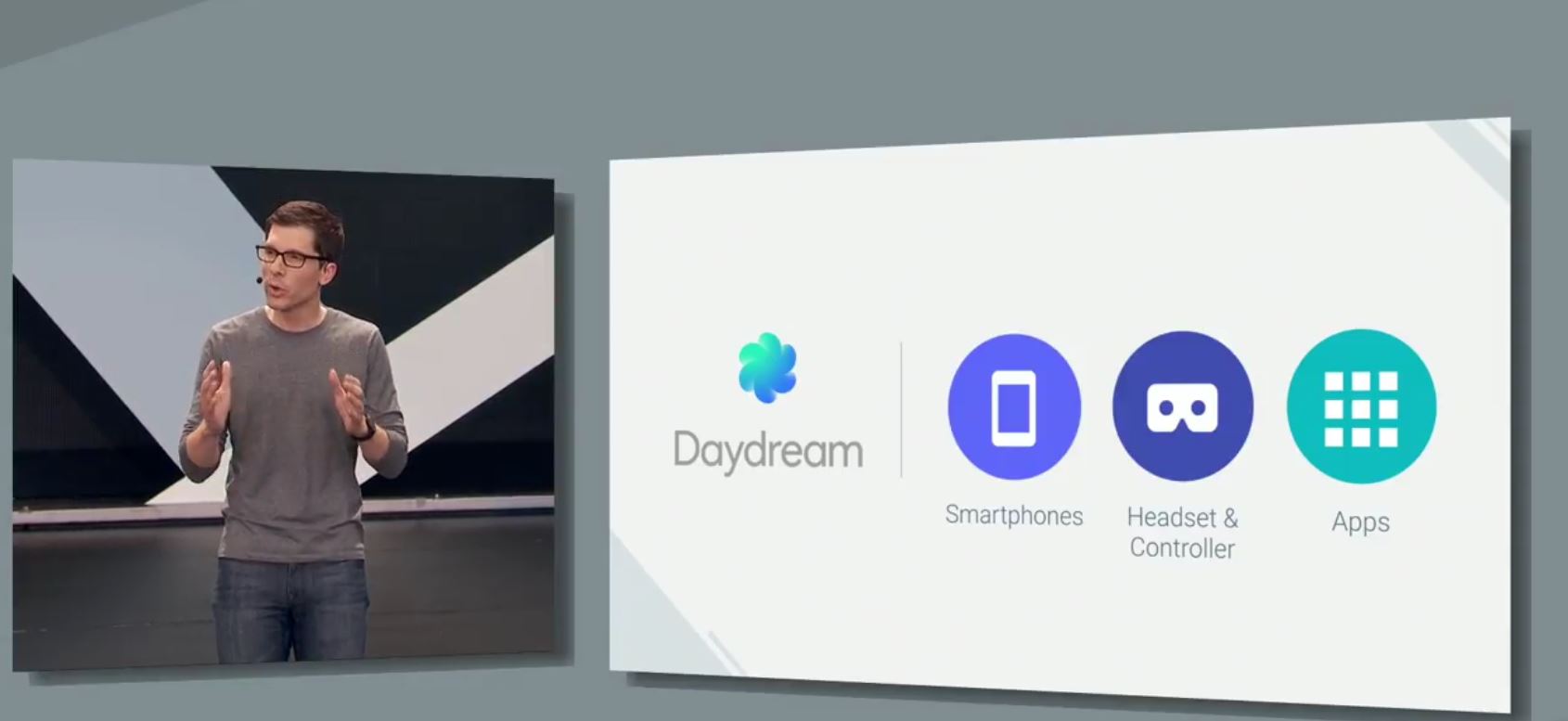 "Accessible, Expressive, Portable"
Google's approach to mobile has always been to make their technology accessible to as many people as possible. Google Cardboard was so simple and cheap to make that over 5 million of them exist in the world currently, which is magnitudes more than what Oculus and Vive can claim. By comparison, Oculus stated that 1 million different users used a Gear VR last month and data suggests approximately only 50,000 Vives are in consumers hands currently. Similarly, the thinking behind keeping the controller so small and simple was is to keep it cheap and replicable by other hardware manufacturers.
It has a few buttons, a trackpad, and motion sensing capabilities. You don't need much else to have agency in a VR world. If you can point to things, you can select them. If you can wave your hand around, then you knock things over. It's these simple interactions that bring such glimmer and joy to us because in the end, it's reminiscent of our childhood shenanigans.
Motion Control
The motion tracking capabilities are done through the orientation, gyroscope, and accelerometer sensors. Using the orientation sensor, you can point it at objects and menus like a laser pointer. With the gyroscope and accelerometer, it detects how fast you're swinging the controller. It's very basic stuff, all of which is contained in your smartphones – which is why you can use any KitKat or better Android phone, such as the Nexus 5x, to emulate the controller during development until it's released.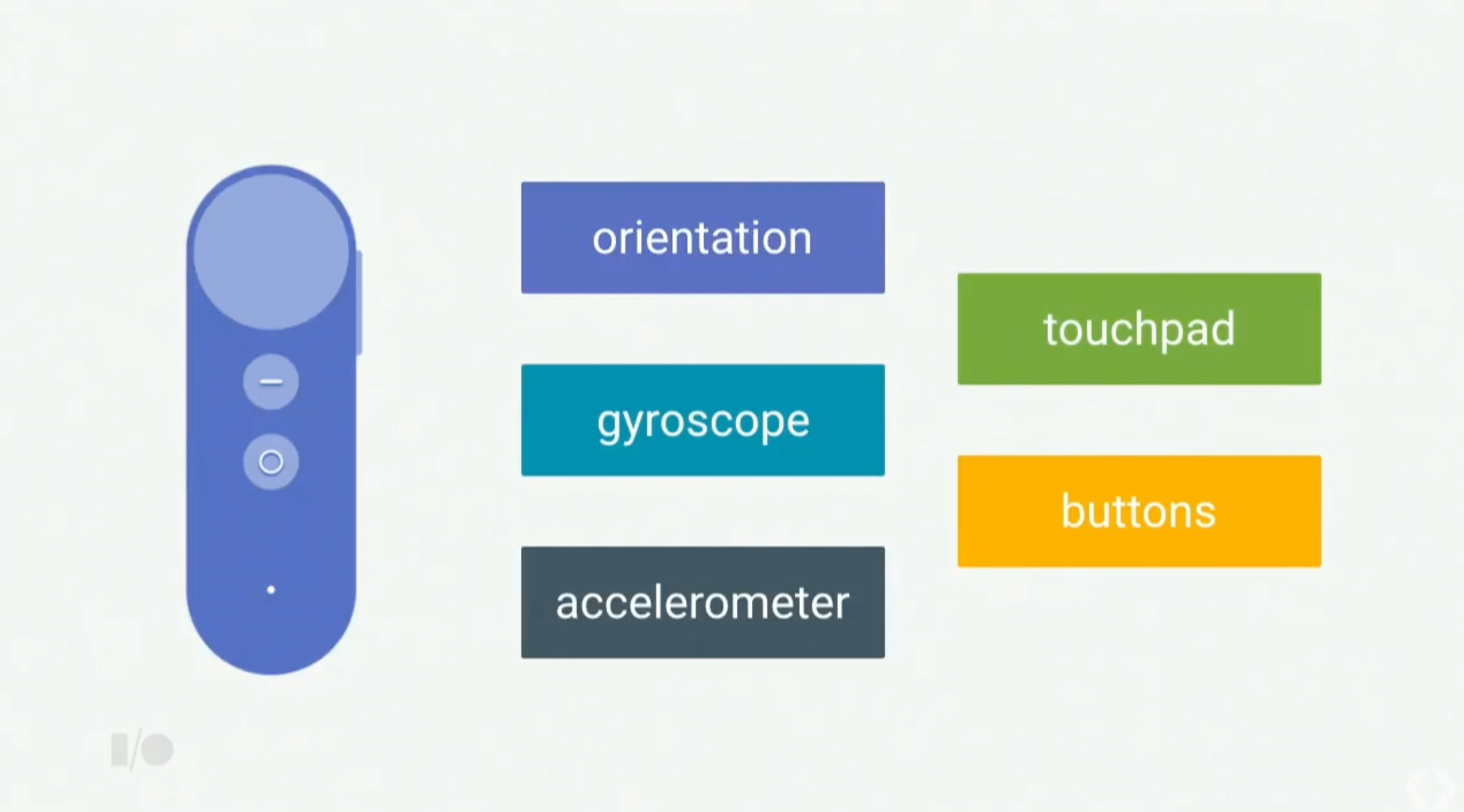 Buttons and Trackpad
Similar to the Vive controllers, there is a clickable trackpad and menu button to interact with things in any Daydream apps. The Home button on the bottom is reserved for returning to Daydream Home and resetting your head orientation. There are volume rockers on the side for easy sound adjustment, which is welcomed addition for easy access from anyone whose ears have been deafened by unoptimized apps on the Gear VR.
Actions
Combining these the motion trackers, buttons, and trackpad, you have a pretty intuitive and relatively powerful input device. But the question remains, what can you do with it? What new apps and interactions can you create with having one hand in VR? Google gave the task to Unreal, Unity, and Schell Games to figure it out.
Although the controller isn't fully positionally tracked like a Vive controller, the amount of things you can do is compelling. Schell games even made a simple point-and-click RTS game!
[gfycat data_id="InexperiencedPleasingAchillestang"]
As for using two controllers at once, Google did not show any demos using any combination of controllers. By our guesses,  Bluetooth is the bottleneck that limits phones to connecting more than one device at a time. We're looking forward to getting our hands on the Daydream phones, HMD's, and controllers. However, until then, we're stuck with attaching papers to our phones and waving them around. At least you can start developing today without the headset or controller, just make sure to follow Google's best practices for creating Daydream applications.