VirtualLink is the new USB-C single cable standard for future VR headsets and the GPUs/laptops they connect to.
It's intended to simplify the setup process of VR and ensure compatibility with USB and power requirements of future headsets. It also allows gaming laptops to guarantee support for VR.
If you're not sure why it's important, here's Why The VirtualLink USB-C Port Matters.
Graphics Cards
RTX 2060
Most RTX 2060 cards do not feature a USB-C port.
The Founders Edition did but is no longer sold. The only partner card with a USB-C port is the AORUS GeForce RTX 2060 XTREME 6G.
The card's specs don't actually mention VirtualLink. But the USB controller is built into the GPU, so featuring the USB-C port means it should support the standard.
RTX 2070
Of the 30 RTX 2070 cards released so far, 27 support VirtualLink and feature a USB Type-C port. The 3 that do not feature a USB Type-C port are:
Palit GeForce RTX 2070 Dual
ZOTAC GAMING GeForce RTX 2070 MINI
ZOTAC GAMING GeForce RTX 2070 Blower
All other RTX 2070 cards we've seen support it, but make sure to double check for a Type-C port before buying.
RTX 2080
Every RTX 2080 card supports VirtualLink, and all we've seen on the market feature a USB Type-C port.
RTX 2080 Ti
Every RTX 2080 card supports VirtualLink, and all we've seen on the market feature a USB Type-C port.
Titan RTX
If you've got more money than they know what to do with, we've got good news for you. The Titan RTX, the most powerful GPU in the world, has a USB Type-C VirtualLink port.
Laptops
As of this article, there is only one announced laptop confirmed to support VirtualLink: the ASUS ROG Mothership GZ700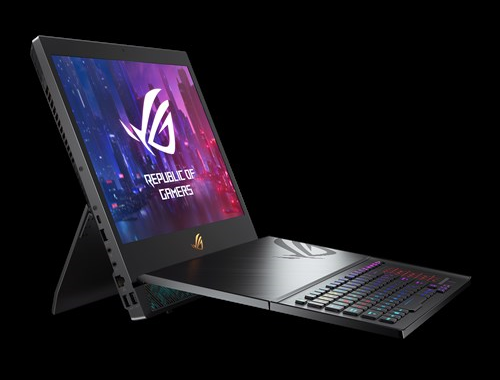 As you can see it's not exactly thin or light. But it's a start. If you plug a VR headset into it, it will work.
Non-VirtualLink Laptops
Most laptops don't support VR. This is because of how the graphics architecture of laptops is typically designed — the HDMI port is typically connected to the integrated GPU, not the NVIDIA GPU. In the past, buying a laptop for VR has essentially been a gamble.
VirtualLink provides a guarantee of support. However, any NVIDIA RTX laptop with a USB Type-C port that supports DisplayPort alt mode should theoretically support VirtualLink headsets. Hopefully in the future some of these laptops can receive VirtualLink certification in a firmware update.This article will be periodically updated when new VirtualLink GPUs and laptops are announced.