Upcoming open-world cyberpunk VR action adventure game, LOW-FI, just surpassed another Kickstarter (campaign page here) stretch goal milestone to include a brand new Wastelands zone.
After just a few days over 700 people pledged over $45,000 to help LOW-FI reach its initial goal. In the two weeks since then it has gone on to raise an additional $20,000 to surpass its second $64,000 stretch goal: The Wastelands area.
According to a recent update on the Kickstarter campaign, the new area will be much more action-oriented than the rest of the game, which takes place inside the city itself in a perpetually overcast nighttime atmosphere.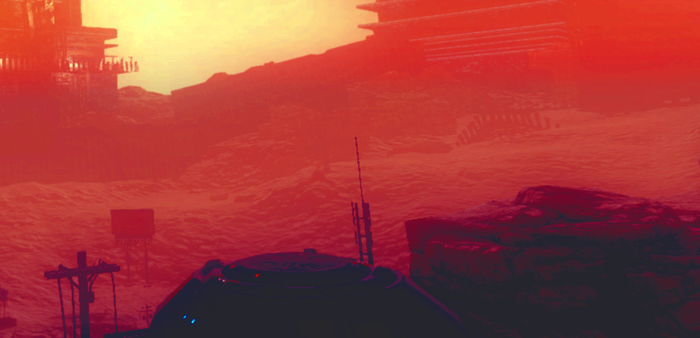 "Far outside the city walls, a desolate land exists. A land where your badge means nothing. A land filled with the wreckage of the old world, where scavengers and protein farmers make their own rules. Only the bravest souls will want to venture out into the wastes. Are you one of those brave souls?
The plan for the wastelands is to allow for more action oriented gameplay. With your weapon at the ready, you'll be able to barter with locals and plunder alongside the lawless scavengers. It's a true wild-west out here where anything can happen. A place where our next stretch goal may come in really handy."

We went hands-on with an extremely early Alpha build of LOW-FI just before the Kickstarter launched and it honestly has a lot of promise. Visually it's looking excellent already and the atmosphere is palpable. Piloting the flying patrol car felt great and the city feels alive and teeming with seedy bad actors waiting to be exposed. The pitch is for an ambitious cyberpunk simulation with emergent gameplay around every corner as a true sandbox, so time will tell if that comes to fruition. I really enjoyed Technolust, so I'm confident this developer can deliver.
The next stretch goal tier is a Cyberwolf Companion with ominous glowing blue eyes that will take commands and become a powerful force by your side.
Let us know what you think of LOW-FI and whether or not you pledge to VR Kickstarters at all down in the comments below!